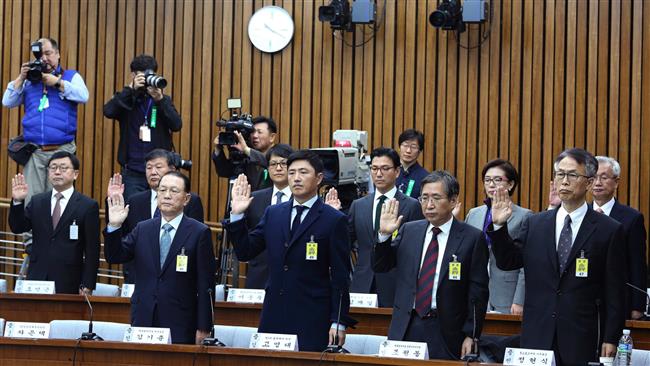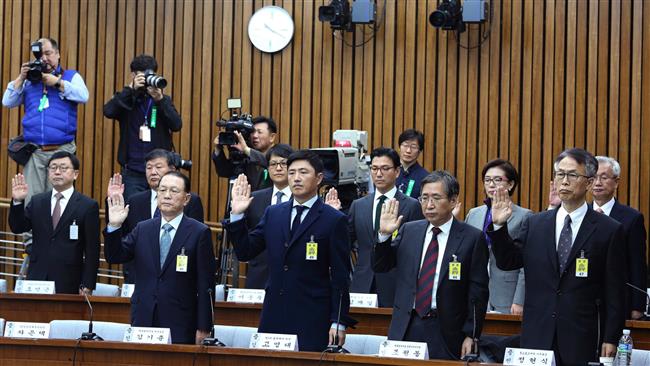 South Korean opposition parties have introduced a motion in the parliament to impeach embattled President Park Geun-hye over an influence-peddling scandal.
The parliament in South Korea formally introduced the impeachment motion on Thursday, accusing Park of violating the country's constitution and colluding with a close friend, who is currently jailed and faces charges of fraud and abuse of power.
The motion will be put to a full vote at the National Assembly on Friday and, if adopted, will go to the Constitutional Court for final approval, setting off a process that could take several months.
Support from two-thirds of the country's 300 parliament members is required to impeach Park. The three opposition parties and independent anti-Park lawmakers hold a total of 172 seats. Park's ruling party has also withdrawn support for the president.
If impeached, Park's presidential powers would be immediately suspended and the Constitutional Court would have 180 days for deliberations to make a ruling on her fate.
Park's presidency has been rocked by scandalous revelations of influence peddling and a subsequent investigation.
South Koreans have been rallying in huge numbers in the capital, Seoul, over the past several weeks to demand her resignation.
Choi Soon-sil, President Park's long-time confidante, is detained over allegations that she interfered in government decisions despite having no official role or security clearance. Choi is also accused of exploiting her ties to the president to bully corporations into granting large sums of money to businesses and foundations that she controlled.
Prosecutors named Park, who has immunity from prosecution while in office, as an accomplice in the case but she has denied the accusation.
The South Korean leader has apologized for the influence-peddling scandal. Her approval rating has plunged to a record low for a sitting president.