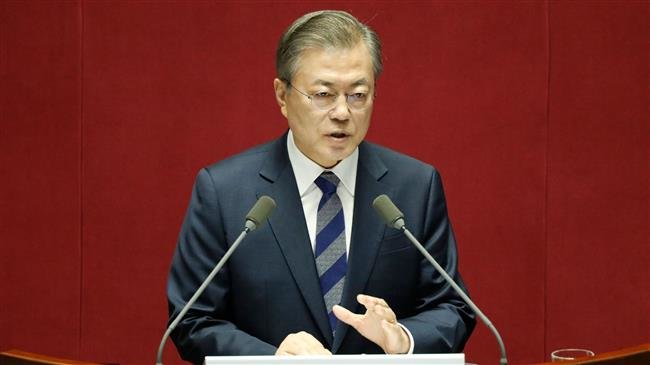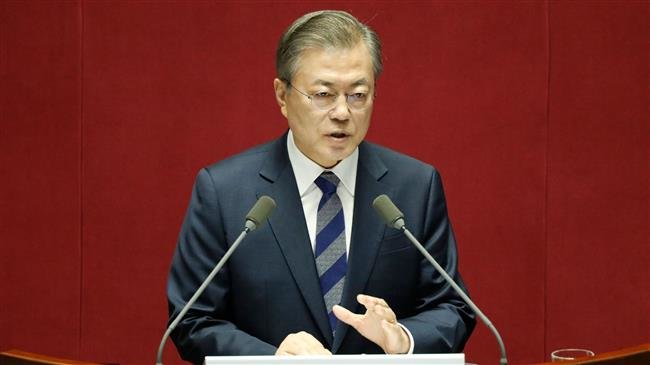 South Korea's President Moon Jae-in has announced that North Korean leader Kim Jong-un will "soon" visit Seoul as part of diplomatic efforts to bring peace to the Korean Peninsula.
Moon broke the news during a speech before parliament on Thursday, without providing details.
The South Korean president said a second North Korea-US summit was "near at hand" and that Chinese President Xi Jinping was expected to visit Pyongyang soon.
Moon further said that he expected Kim to travel to Russia soon as well, and meet with Japanese Prime Minister Shinzo Abe, too.
The North Korean leader promised Moon at a meeting in Pyongyang in September that he would visit Seoul "in a short time," but no date was set for the meeting.
If the visit takes place, Kim would be the first North Korean leader to visit the South Korean capital since the 1950-1953 Korean War.
Kim's sister, Kim Yo-jong, became the first member of North Korea's ruling family to visit Seoul in February, when she attended the Winter Olympics in the South as a special envoy and conveyed Kim's desire for a summit with Moon.
The two Koreas, which are technically still at war because the war ended with a truce and not a peace treaty, agreed at the Pyongyang summit in September to take a step closer toward peace by turning the Korean Peninsula into a "land of peace without nuclear weapons and nuclear threats."
North Korean leader Kim Jong-un and South Korean President Moon Jae-in agree to take further steps toward peace between their countries.
Under a deal signed at the summit, Kim and Moon agreed to halt military exercises, gradually remove landmines and guard posts within the Demilitarized Zone (DMZ), and establish an extensive no-fly zone near their border.
Moon said at the time that Kim had pledged to allow international inspectors to observe a "permanent dismantlement" of key missile facilities across North Korea and take further steps such as closing the Yongbyon nuclear facility but only if the United States took "corresponding measures."
South Korea's Yonhap news agency on Wednesday cited intelligence sources as saying that preparations were underway in North Korea for possible inspections at the Punggye-ri nuclear test site and the Sohae Satellite launching ground.
North Korea has been making preparations at several of its weapons sites ahead of visits by international inspectors, South Korea says.
Kim and US President Donald Trump held a meeting of their own in Singapore in June, when they agreed to work toward denuclearization of the Korean Peninsula.
Over the past months, talks have been under way between Washington and Pyongyang, but the dialog has achieved little progress, with the US-led sanctions against Pyongyang remaining in force despite Pyongyang's measures toward denuclearization.
In return for those measures, Pyongyang is seeking relief from harsh international sanctions — mostly spearheaded by the US — imposed on the country over its nuclear and missile programs.
The US has not taken action to lift any of those sanctions.
No-fly zone, military drill ban enforced near Korea border                       
Meanwhile, a no-fly zone and a ban on military drills near the heavily-fortified border between the two Koreas came into effect on Thursday.
The measures were regarded as part of a military deal struck during the inter-Korean summit in Pyongyang last month, which included a halt to "all hostile acts."
"The South and the North completely removed dangers of military clash through the military agreement," the South Korean president said in his speech at the parliament. "The two Koreas and the United States will achieve complete denuclearization of the Korean Peninsula and lasting peace based on firm trust."
The agreement bars live-fire drills involving fixed-wing aircraft and air-to-ground guided weapons in the no-fly area. It also imposes different restrictions on helicopters, drones, and balloons, with exemptions for commercial and non-military operations such as medical, disaster, and agricultural ones.
The United States has expressed opposition to the deal, saying it could undercut the so-called defense readiness amid what it called tardy progress in North Korea's denuclearization process.