Africa
South Sudan and CAR dominate African Union summit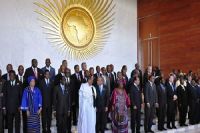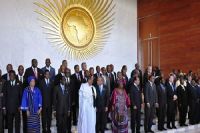 Thirty-four African leaders have gathered for a two-day summit in the Ethiopian capital Addis Ababa to discuss mounting challenges in the continent.
According to Press TV, the conflict in the Central African Republic and the ongoing violence in South Sudan dominated the agenda of the African Union summit on Thursday, sidelining other pressing issues like food insecurity and agriculture.
Opening the meeting, Ethiopian Prime Minister Hailemariam Desalegn said he was "deeply concerned by the emergence of new conflicts" that threaten peace and stability of Africa.
He called for an end to "senseless violence" in the Central African Republic and urged South Sudan's rival forces to negotiate peace in the world's youngest nation.
Desalegn said, "We need to find urgent solutions to rescue these two sisterly countries from falling into the abyss, "adding "Failure to do so will have serious implications for peace and security in the region and indeed the whole continent."
The United States has also called on both sides in South Sudan to reach a political settlement.