Africa
South Sudan forces close in on Bentiu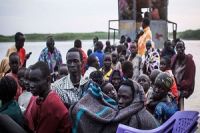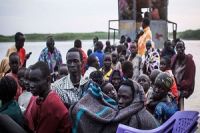 South Sudanese forces continue with an offensive to take back control of the country's key oil hub from rebels.
According to Press TV, clashes raged on Friday between government troops and rebels with the worst fighting centered around Bentiu, the capital of Unity State.
Bentiu is one of South Sudan's main oil-producing areas and one of two northern towns captured by rebels loyal to former Vice President Riek Machar soon after violence erupted in the country.
On Thursday, army spokesman Philip Aguer said that troops loyal to President Salva Kiir were close to Bentiu and that clashes were continuing.
He added that government troops were battling rebel forces some 15 kilometers from Bor, which is the capital of Jonglei State.
Meanwhile, the United Nations, which shelters over 8,000 people at its Bentiu compound, said its mission in the African country had cut off military links with the government and was prepared to fight off any assault.
UN deputy spokesman Farhan Haq described the result of the fight for Bentiu as "unclear and fluid."