Africa
South Sudan peace talks adjourned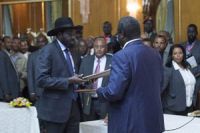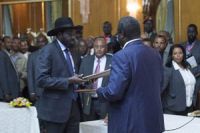 Peace talks between warring factions in South Sudan that began nearly ten months ago have been put on hold.
According to Press TV, Michael Makuei, the chief negotiator for the South Sudan government, said on Sunday that the talks have been cancelled but will resume on October 16.
Makuei noted "It will give them (both sides) time to consult on some of the outstanding issues and sticking points in the talks, especially the powers of the prime minister and whether the president will be head of state and government."
The negotiations began in January with the aim of finding an effective solution to the conflict which erupted between the supporters of President Salva Kiir and his former deputy Riek Machar.
The two sides have principally agreed to form a federal government, but there are some details that need to be hammered out.
South Sudan plunged into violence in December 2013, when fighting erupted between troops loyal to the president and defectors led by Machar around the capital, Juba.