Europe
Spain's Iberia workers hold demo in Madrid to protest job cuts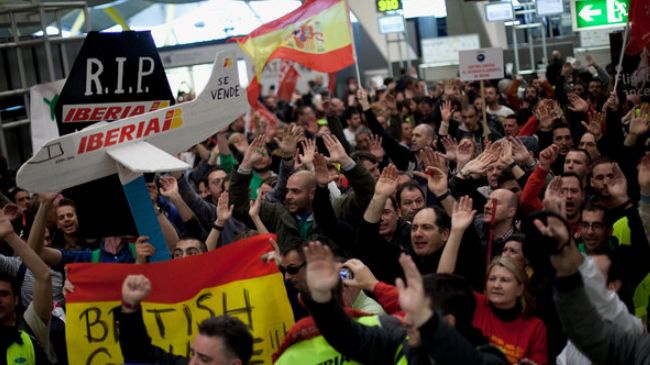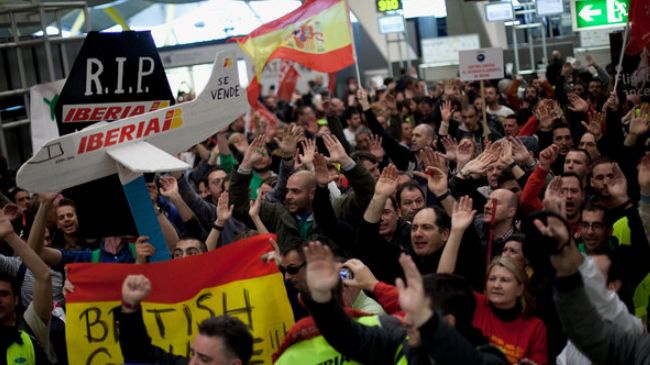 Over a thousand of striking employees of Spain's flagship airline Iberia have staged a rally in Madrid to protest the company's plan to lay off a large number of workers.
The workers, carrying flags and signs reading "British go home" and "Iberia is Spanish," gathered outside the airline headquarters in the capital on Wednesday to protest against management's plans to cut 3,800 jobs following its merger with British Airways, AFP reported.
"Iberia management are a bunch of London puppets," said Jaime Quintana who has worked as a member of Iberia's cabin crew for 12 years and represents Spain's largest trade union, Comisiones Obreras.
In an attempt to reduce costs, Iberia merged with British Airways in 2011 to form the International Airlines Group (IAG).
Iberia's workers, however, accuse the airline's management of betraying them and selling off the pride of Spanish aviation to foreign interests.
"They are emptying off Iberia in favor of British Airways," said Pablo, a 54-year-old Iberia pilot who refused to give his last name, fearing reprisals from the company.
Cabin crew, ground staff, and maintenance workers began a second five-day strike against the planned job cuts and salary reductions on Monday.
Airline staff started the first of three five-day strikes on February 18-22 with plans to start its third and last part of the strike on March 18-22.
Unions have threatened to stage an open-ended strike unless Iberia backs down on its plans.
"If we do not do anything, within two years Iberia will disappear," said 32-year-old flight attendant Cristina Gomez.
The Spanish government has also been sharply criticized over the austerity measures that are hitting the middle and working classes the hardest.
Public protests have grown in the country over speculation that the government will seek a Greek-style European bailout to keep its borrowing costs in check.
The eurozone's fourth-largest economy must lower its deficit to 4.5 percent in 2013, and 2.8 percent in 2014. Economists, however, say those targets will be difficult to meet amid poor prospects for the country's economic recovery.
Battered by the global financial downturn, the Spanish economy collapsed into recession in the second half of 2008, taking with it millions of jobs.