Europe
Spaniards hold demonstrations against education cuts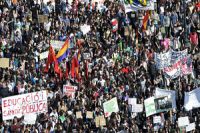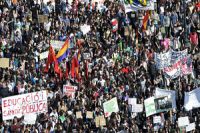 Demonstrations have been held in the Spanish capital, Madrid, and over two dozen other cities in protest against the government's austerity measures in the public education sector.
According to Press TV, in Madrid, more than a thousand students, teachers and families took to the streets on Thursday.
Similar demonstrations were also held in 29 other cities.
Protesters called for the resignation of Education Minister Jose Ignacio Wert. They said his policies are ruining the public education system.
Furious at planned increases in public university tuition fees, students highlighted that the measures would limit access to public education.
Spain's public spending on education has been cut by over one billion euros this year, which will lead to larger class sizes and higher university tuition fees.
The 2013 budget of the country will freeze public sector salaries for the third year in a row and cut ministerial spending by an average of 8.9 percent. The Spanish regions that pay for health and education must also scrape up seven billion euros in savings.
Spain, the fourth-largest economy in the eurozone, must lower its deficit to 6.3 percent in 2012, 4.5 percent in 2013, and 2.8 percent in 2014. Economists, however, say those targets will be difficult to meet amid poor prospects for the country's economic recovery.
Spain's economy collapsed into recession in the second half of 2008. Millions of jobs have been lost ever since.