Europe
Spaniards protest controversial security law in Madrid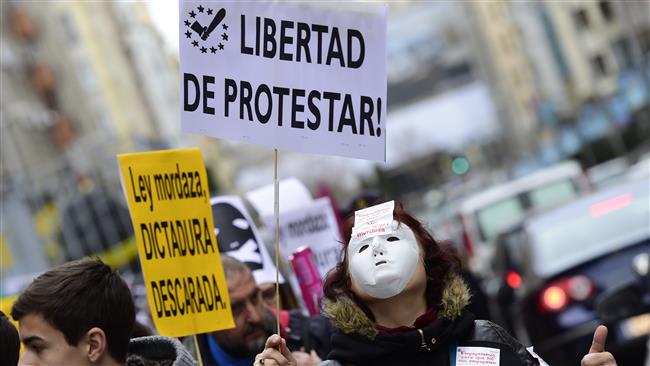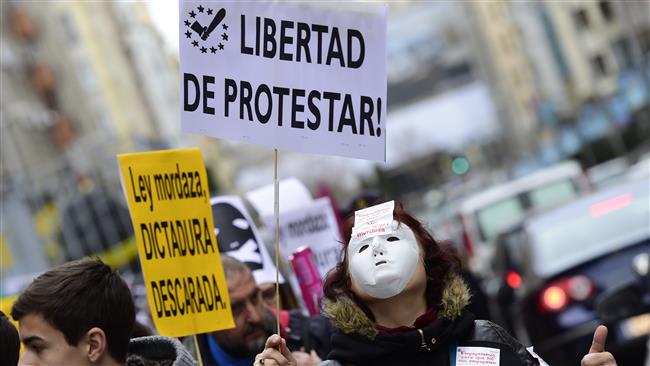 Hundreds of demonstrators have taken to the streets in the Spanish capital, Madrid, to express opposition to the so-called "gag law" that places strict regulations on public protest rallies and strikes.
The protesters marched in Madrid's central square on Saturday to condemn the government for the new controversial law.
Spain's lower house of parliament in December 2014 approved the law, dubbed the "ley mordaza" or "gag law" by its critics.
Under the new legislation, heavy fines have been introduced for unauthorized protests. It also allows for the summary expulsion of migrants that try to enter Spain illegally, in a move that was fiercely criticized by human rights activists.
The law bars unauthorized protests outside buildings that provide "basic services to the community," and prohibits the photographing or filming of police officers.
Those participants in Saturday's rally held placards reading "stop repression," demanding the legislation be scrapped.
Similar demonstrations were staged in Madrid and 20 other cities in February 14.
Curbing anti-austerity protests
Spain has been also the scene of massive anti-government rallies over the past months, with most of them opposing the increasing austerity measures by the administration, which have seriously lowered the standards of living in the country.
Many say Spain could become another Greece, where austerity cuts by the government finally led to the victory of the far-right popular party, Syriza, in a recent election.
Some analysts say the new law is meant to restrict the rising trend of protests in Spain for the removal of the government, which has come under fire over its failure to meet people's financial demands.
Tens of thousands marched in Madrid in late January in a rally called by the country's anti-austerity party, Podemos.