Europe
Spaniards rally to protest anti-Muslim hate crimes after terror attacks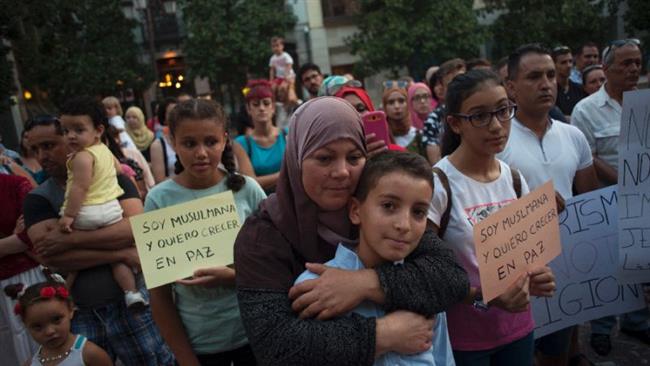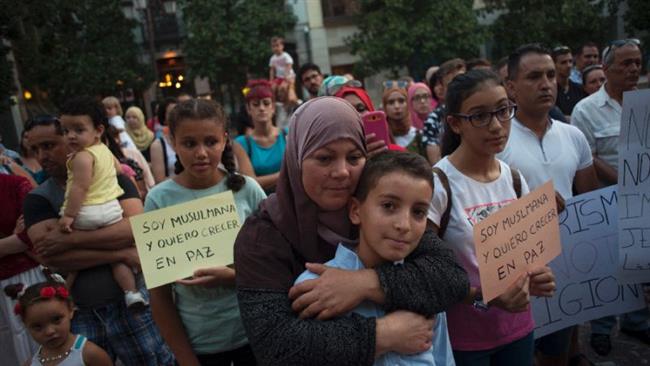 Two hundred Muslims in Spain have held a protest rally against a rise in anti-Muslim hate crimes in the wake of a pair of recent terrorist attacks that killed 14 people in the country.
The demonstration was staged in the city of Granada, in southern Spain, on Wednesday.
Members of the far-right group Hogar Social had purportedly attacked the city's main mosque with flares and smoke bombs on Saturday. Vandals have defaced mosques with racist and anti-Islamic graffiti in some other cities in Spain, including Seville.
The attack on the mosque came after 14 people lost their lives and some 120 others sustained injuries in vehicular terrorist attacks in Barcelona and the seaside resort of Cambrils on August 17 and 18, respectively. It was later revealed that one of the terrorists had also stabbed to death the driver of the car he had stolen to carry out his deadly mission.
Both terror attacks, considered the deadliest in Spain in more than a decade, were later claimed by the Takfiri Daesh terrorist group.
The Muslims who marched on Wednesday denounced the acts of terror in Barcelona and Cambrils. They carried banners with slogans such as "I am Muslim and I want to live in peace" and "We also are victims" as they convened outside Granada city hall.
"It is very important for us to affirm our values as Muslims, which are the same as those of all other human beings on this planet," said Nizar Liemlahi, the director the Dar Loughat Muslim cultural association, one of the co-organizers of the Wednesday rally.
Some 1,000 people from Barcelona's Muslim community had earlier denounced the terrorist attacks in a rally in the city on Monday.
Terror alert in the Netherlands
Meanwhile, authorities in the Netherlands are on high alert for potential terrorism and have canceled an American rock band due to security concerns in the city of Rotterdam.
A Dutch judicial source, speaking on the condition of anonymity, said Spanish police had tipped the authorities in the Netherlands of potential danger in the area where the concert was due to be held, saying, however, that the cancellation had no direct relation to the pair of terror attacks in Spain.
In that same city, a Spanish man was arrested while driving a vehicle with a Spanish license number and loaded with an unspecified number of gas canisters. But Spanish news agency Europa Press, citing Spanish anti-terrorism force sources, said that the arrested Spaniard had no links to terrorism, and that the gas bottles were apparently for personal domestic use.