Europe
Spaniards rally to show unity after banned referendum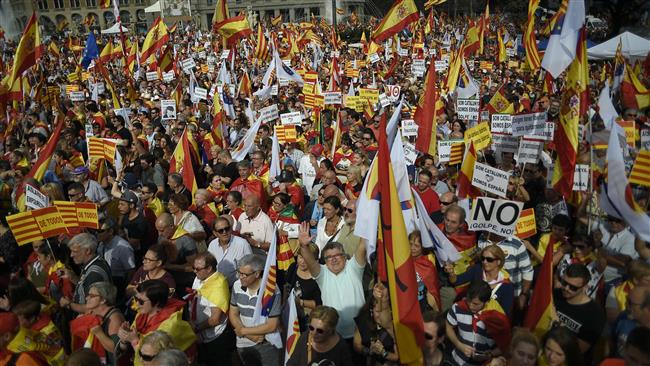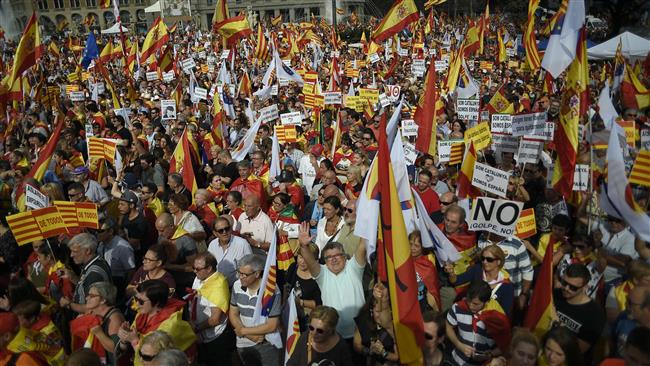 People have taken to the streets of the Spanish cities of Madrid and Barcelona on the Spanish National Day in a sign of unity following a banned referendum on independence for Spain's autonomous Catalonia region.
The Dia de la Hispanidad occasion on Thursday saw a customary military parade in Madrid. Spain's monarch, King Felipe VI, presided over the parade, in which almost 4,000 military and police officials took part.
People lined the streets, already populated by Spanish flags, to demonstrate unity.
A Eurofighter combat jet plane crashed shortly after it took part in the national day parade in Madrid, killing the pilot.
In Barcelona, the capital of Catalonia region, 65,000 demonstrators marched through the streets with Spanish and Catalan flags, chanting "We aren't fascist, we are Spanish," as well as other slogans, before concluding the demonstration at Catalunya Square.
The demonstrations were mostly peaceful, but police had to intervene to stop a scuffle with pro-independence activists in central Barcelona. An ultra-right-wing, anti-separatist group burned the 'Esteladas' Catalan pro-independence flag during the rally in Barcelona.
"I am with Spain, with the civil guard, I am a democrat, I am Catalan, I am Spanish, I am European," said Genoveva Cabrera, a 63-year-old Barcelona demonstrator.
Catalonia's independence referendum, held on October 1, divided the region between the supporters of the central government and the secessionists.
The president of the autonomous region, Carles Puigdemont, on Tuesday signed a symbolic declaration of independence following the referendum but held off on officially declaring independence.
The Catalan government instead called for talks with Madrid, only to be turned down.
Puigdemont claimed that 90 percent of the voters in the referendum had backed secession, but turn-out had been declared only at 43 percent, and polls conducted before the referendum had suggested that only around 40 percent of Catalans were supporters of independence from the central government.
Spain's Prime Minister Mariano Rajoy has given Puigdemont eight days to dismiss the independence bid or face the suspension of Catalonia's political autonomy as stated in article 155 of Spain's Constitution.
Madrid had banned the referendum and attempted to disrupt the plebiscite by confiscating ballot papers and boxes and deploying police forces to designated polling stations.