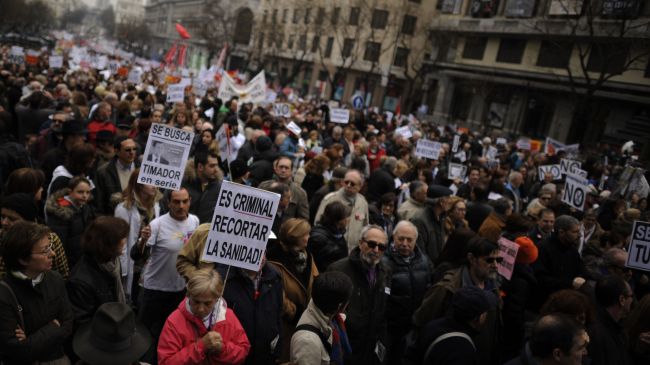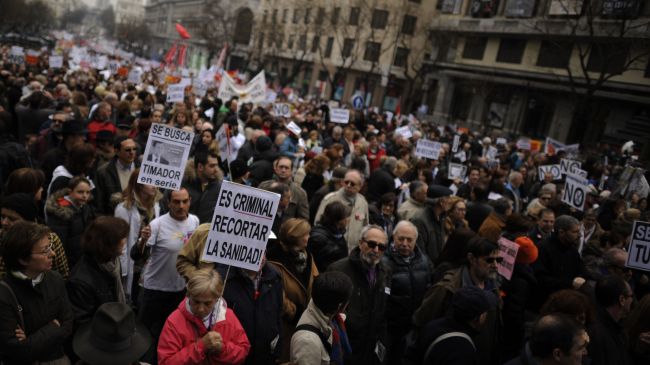 Amid fresh reports of Royal family corruption, furious Spaniards are set to stage massive nationwide protests against severe budget cuts.
Massive protests have been planned for Saturday in Madrid, Barcelona and other cities.
Teachers, students, miners, medical staff, workers from various sectors, along with a number of political parties will be taking part in protest.
"Today our democracy is threatened, that is why we protest to demand a true democracy where people can decide their future," said Paco Segura, a spokesman for one of the organizing associations.
Spaniards blame Prime Minister Mariano Rajoy's conservative government for the harsh austerity measures, which has led companies to shut down and driven the unemployment rate above 26 percent.
Public outrage has been further fuelled by corruption scandals, which have hit Rajoy's Popular Party and the Spanish king's son-in-law, Inaki Urdangarin.
Rajoy and other party members have been accused of receiving irregular payments.
Urdangarin has allegedly embezzled millions of euros of public money paid to a company he managed several years ago.
The fourth largest eurozone economy has adopted a raft of austerity measures to save 150 billion euros between 2012 and 2014.