Europe
Spanish party rejects exclusive talks offer by rival party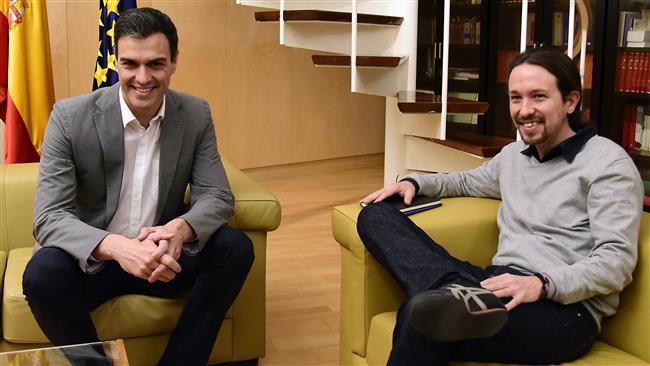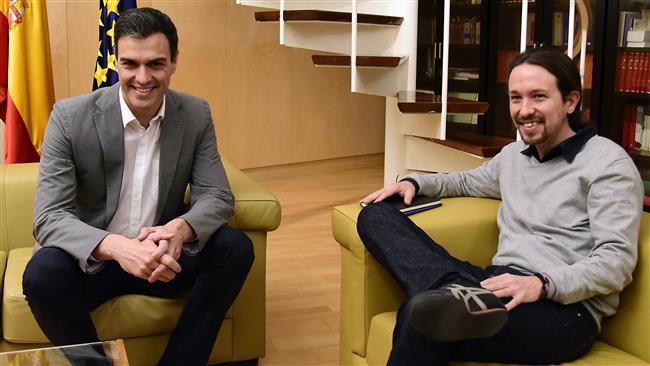 Spain's Socialist Party (PSOE) has snubbed an offer by the anti-austerity Podemos Party to hold exclusive talks – only involving the two factions – to form a new government.
The development came following a Friday meeting between Podemos (We Can) leader Pablo Iglesias and PSOE leader Pedro Sanchez in the capital, Madrid.
The meeting was held to discuss a potential establishment of a coalition government after the inconclusive results of recent legislative polls in Spain.
"Today Mr. Iglesias told me that if I talk to other political parties, such as with [centrist] Ciudadanos (Citizens) Party, I won't count with Pablo Iglesias party to try to form that government of progress," said Sanchez in a press briefing following the meeting.
"Iglesias," he added, "has proposed to me an exclusive and selective negotiation, and what the Socialist Party says is that we have to open a plural dialogue, open to all political parties to build that government of progress and reforms."
During a separate press conference, Iglesias said, "I have expressed [to Sanchez] our will to form a coalition government of progress, and I have expressed our readiness to begin negotiations of government teams and government programs. I have raised our willingness to dialogue and negotiate to achieve a government of progress. We think that a government of progress is incompatible with reaching agreements with right-wing parties."
"I like to think that Pedro Sanchez will choose and will prefer to work with us," he said.
Meanwhile, Sanchez also said, "We must put an end to the government of [acting Prime Minister] Mariano Rajoy and the [conservative] Popular Party (PP). Therefore we assume that duty to break the deadlock and build a government of progress and reforms."
Despite coming first in the election with nearly 29 percent of the vote, Rajoy lacks enough support to form a government.
Sanchez, meanwhile, said he would continue negotiating with all parties except the PP, urging Iglesias to reconsider his demand.
If Sanchez fails to form a working coalition government, a fresh general election will be called.