Europe
Spanish workers hold demos in Madrid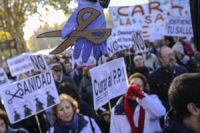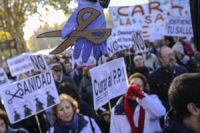 Spanish health and justice workers hold separate demonstrations in Madrid to protest against austerity measures imposed on their sectors by the Prime Minster Mariano Rajoy's conservative government.
According to AP, the demonstrators took to the streets of the capital on Wednesday to show their outrage at the unpopular cost-cutting measures, saying the measures will lower the quality of the services they provide.
Justice workers across Madrid staged a walk-out to protest against reforms in the justice system. The reforms include the elimination of substitute judges and a reduction in the number of leave days.
On the other side of the city, medical workers voiced their anger toward budget cuts and plans to partly privatize public healthcare. They staged a mock marathon to draw attention to the protest.
Spain's health sector has been hit hard by the government's austerity policies aimed at bringing down the country's fiscal deficit to more manageable levels.
On Monday, the country' major newspaper, the El Pais, called on the government to apply for a bailout immediately in order to prevent a deepening recession.