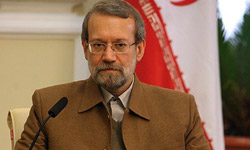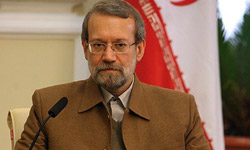 Iranian Parliament Speaker Ali Larijani said the Islamic resistance movements, specially Lebanese Hezbollah and Palestinian Hamas and Islamic Jihad, was able to impose "backbreaking" defeats on the Zionist regime of Israel due to their high morale of resistance.
Addressing 4th international conference of 'Gaza, Symbol of Resistance' in the Iranian capital on Thursday, Larijani said Hezbollah, Hamas and Islamic Jihad were among the most influential powers in the region due to their morale of resistance.
He said that Israel was crushed by Hezbollah during the 33-day (2006 summer) war and added the Lebanese movement imposed a backbreaking defeat on Tel Aviv.
Larijani said that Israel then launched the 22-day war to break Gaza but was defeated by Hamas and Islamic Jihad and added the Tel Aviv regime suffered its latest defeat in the recent eight-year war on Gaza.
Israel triggered an 8-day fighting by assassinating the military chief of the ruling Hamas group on November 14 followed by dozens of airstrikes on Gaza.
In response, Palestinian groups fired over 1,500 missiles and rockets at Israel.
Palestinian resistance groups targeted Tel Aviv and areas near Jerusalem for the first time in the history of confrontations between the two sides, launching a rocket attack in a major escalation of hostilities as Israel pressed forward with relentless airstrikes on the Gaza Strip.
Israel called up thousands of reservists and massed troops along the border with Gaza, signaling a ground invasion of the densely populated seaside strip could be imminent.
But the rocket attacks on areas deep in the occupied territories (Israel) frightened the Israeli regime, and made it drop its aggression plans and ask for third party mediation.
Eventually, a Cairo-mediated ceasefire agreement, which took effect on Wednesday November 21, ended the Israeli attacks, which killed more than 165 Palestinians and injured about 1,269 others.