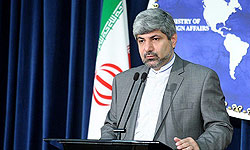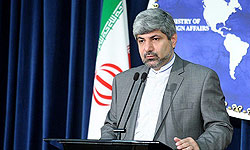 Iranian Foreign Ministry Spokesman Ramin Mehman-Parast condemned the European Parliament's politically-motivated intentions in granting the Sakharov prize to two Iranians, and said the parliament should deal with the numerous instances of human rights abuses in the European countries instead.
The European Union's annual Sakharov prize was given to two dissident Iranians Jafar Panahi and Nasrin Sotoudeh last month.
"The European Parliament had better deal with the numerous instances of human rights violations in the European countries instead of granting awards with political objectives," Mehman-Parast said on Sunday, reiterating that the European Parliament had better deal with the unfavorable conditions of foreign refugees in the European countries, discrimination against Muslims and suppression of the righteous demands of the European citizens.
"Unfortunately, the European Union and its relevant bodies have a selective and instrumental approach to the human rights issue and follow political ends by raising such issues," he added.
Earlier this year, Iranian Ambassador to Austria Hassan Tajik lashed out at the European Union (EU) member states due to their blind obedience to the major world powers' hostile policies toward Tehran, and said that such unfair views will just widen the existing gap between Iran the EU and harm the Europeans' interests.
In an interview with an Austrian newspaper in September, the Iranian diplomat pointed out that Europe is obeying powers which are against Iran and this will hurt EU interests, and said that if Europe does not change its policy on Iran, the two sides get more distant from each other.
Given the illegal sanctions against the country by the West, he underlined that although economic sanctions might affect Iran, in fact, its effects on the European companies are worse.
He added that Iran is an important partner for different countries in the world, including European countries because of Tehran's economic power as well as its strategic position in the Middle East.