Asia-Pacific
World News
Sri Lanka's bloody day: Hundreds of casualties in attacks on churches, hotels
Several explosions have hit three churches and three hotels in Sri Lanka, reportedly leaving at least 207 people dead and 450 others wounded, police say.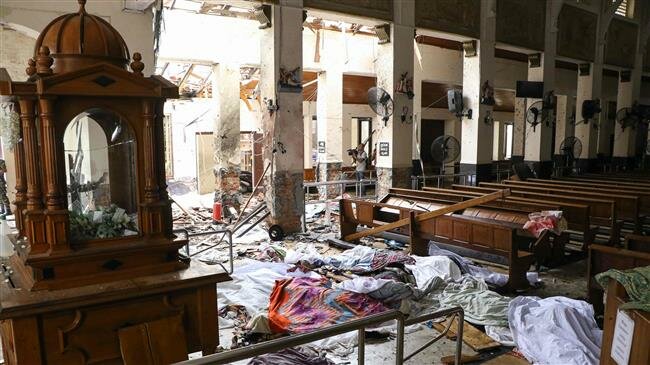 The explosions hit St. Anthony's Church in Colombo and St. Sebastian's Church in the nearby city of Negombo as well as Zion Church in the eastern city of Batticaloa on Sunday, as worshipers were attending Easter services.
The Shangri-La, Cinnamon Grand, and Kingsbury hotels, which are situated in Colombo, were also targeted.
Cinnamon Grand is located near the Sri Lankan prime minister's official residence.
Police officials confirmed the casualty tolls to AFP, adding that 35 foreigners were also among the dead.
"Altogether we have information of 207 dead from all hospitals. According to the information as of now we have 450 injured people admitted to hospitals," Police Spokesman Ruwan Gunasekera was quoted by AFP as saying in Colombo.
The news agency also cited hospital sources as saying that American, British, and Dutch citizens were among the foreign nationals killed in the blasts.
According to local police and media sources, seven people were arrested later on Sunday and three police officers were killed during a raid on a house in Colombo.
A post on the Facebook page of St. Sebastian's Church said a "bomb attack" had targeted the premises.
'Body parts strewn all over'
Sri Lankan MP Harsha de Silva tweeted that there had been "foreigners" among the casualties. He said he had been to one of the churches and one of the hotels and seen "horrible scenes," adding, "I saw many body parts strewn all over. Emergency crews are at all locations in full force."
Sri Lankan President Maithripala Sirisena said he was shocked by the incidents and appealed for calm.
Finance Minister Mangala Samaraweera tweeted that the attacks appeared to be a "well-coordinated attempt to create murder, mayhem & anarchy."
Prime Minister Ranil Wickremesinghe condemned the "cowardly attacks" and urged Sri Lankans to remain "united and strong."
I strongly condemn the cowardly attacks on our people today. I call upon all Sri Lankans during this tragic time to remain united and strong. Please avoid propagating unverified reports and speculation. The government is taking immediate steps to contain this situation.— Ranil Wickremesinghe (@RW_UNP) April 21, 2019
Ranil also called for a national security council meeting at his residence later in the day.
Seventh, eighth explosions reported hours later
Several hours after the initial explosions, a seventh blast rocked Dehiwala, the largest suburb of Colombo, to the south, and an eighth hit the suburb of Orugodawatta, north of the capital, according to police.
Police spokesman Ruwan Gunasekera said at least two people were killed in the Dehiwala explosion, which happened at a hotel.
Curfew enforced
Meanwhile, the Sri Lankan government has imposed a curfew with immediate effect.
Education Minister Akila Viraj Kariyawasam announced that all schools would be closed on Monday and Tuesday.
The government has also blocked access to major social media platforms and messaging services.
'Culprits identified'
State Minister of Defense Ruwan Wijewardene said that investigators had identified the perpetrators of the Sunday attacks.
"We believe that all the culprits who have been involved in this unfortunate terrorist incident will be taken into custody as soon as possible," he said.
He did not name them.
Muslim Council denounces attacks
The Muslim Council of Sri Lanka (MCSL) issued a statement later in the day mourning "the loss of innocent lives due to extremist and violent elements who wish to create divides between religious and ethnic groups."
Iran condemns attacks
In a post on his Twitter account later on Sunday, Iran's Foreign Minister Mohammad Javad Zarif said that he was "terribly saddened" by the attacks in Sri Lanka, and said terrorism "is a global menace with no religion."
Terribly saddened by terrorist attacks on Sri Lankan worshippers during Easter. Condolences to friendly govt & people of Sri Lanka. Our thoughts & prayers with the victims & their families
Terrorism is a global menace with no religion: it must be condemned & confronted globally.— Javad Zarif (@JZarif) April 21, 2019
Separately, Iranian Foreign Ministry spokesman Abbas Moussavi strongly condemned the deadly attacks and expressed sympathy with the Sri Lankan government and nation.
"The crime today [in Sri Lanka] once again showed that the despicable phenomenon of terrorism has become a global problem that knows no border, ethnicity, nationality, or religion," Moussavi said.
Lebanon's Hezbollah condemns Sri Lanka attacks
Lebanon's Hezbollah movement condemned the bloody terrorist blasts in Sri Lanka on Sunday, denouncing any action that would endanger lives of believers in any divine faith at any place of worship.
In its statement issued, Hezbollah also reiterated that terrorism can never have any religious identity, calling on all believers who follow various religious faiths to stand united in face of this dangerous scourge whether represented by individuals or "fabricated entities."
World leaders react to bloody Sri Lanka blasts
Following deadly Sri Lanka attacks, world's religious and political leaders issued messages condemning the killing of almost 160 people that also included some Western nationals.
Germany's Chancellor Angela Merkel condemned Sri Lanka bombings, urging "religious hate and intolerance that have showed themselves in such a terrible way today must not win."
She added, "It is shocking that people who gathered to celebrate Easter together were consciously targeted in this malicious attack."
Meanwhile, French President Paris, Emmanuel Macron also condemned the attacks targeting churches and hotels in Sri Lanka, saying, "We strongly condemn these odious acts."
Writing on his Twitter page, he added, "Full solidarity with the Sri Lanka people and our thoughts for all those close to the victims this Easter."
British Prime Minister Theresa May described the attacks as "truly appalling" in a tweet, saying, "The acts of violence against churches and hotels in Sri Lanka are truly appalling, and my deepest sympathies go out to all of those affected at this tragic time."
"We must stand together to make sure that no one should ever have to practice their faith in fear," she added.
Dutch Prime Minister Mark Rutte also took to Twitter following the attacks, writing, "Terrible reports from Sri Lanka about bloody attacks on hotels and churches on this Easter Sunday. Thoughts are with the victims and their relatives."
Pope Francis, for his turn, expressed sadness over Sri Lanka attacks during his traditional Easter address at the Vatican, saying, "I want to express my affectionate closeness with the Christian community, attacked while it was at prayer, and to all the victims of such cruel violence."
Australia Prime Minister Scott Morrison also issued a statement, saying, "To the beautiful people of Sri Lanka, Australia sends its heartfelt sympathies and our prayers and our support — and our offer to do whatever we can to support you in this terrible time of need."
He added, "At this time as Easter Sunday draws to a conclusion here in Australia, our heart goes out to those Christians and all of those other innocents who have been slaughtered today in this horrific terrorist attack."
New Zealand Prime Minister Jacinda Ardern described Sri Lanka attacks, which took place a month after dozens of Muslims were killed in a shooting at two mosques in Christchurch, as "devastating."
"New Zealand condemns all acts of terrorism, and our resolve has only been strengthened by the attack on our soil on the 15th of March. To see an attack in Sri Lanka while people were in churches and at hotels is devastating.
"New Zealand rejects all forms of extremism and stands for freedom of religion and the right to worship safely. Collectively we must find the will and the answers to end such violence."
Pakistan's Prime Minister Imran Khan also offered his "profound condolences" to Sri Lanka, saying in a Twitter message that people and government of Pakistan, "strongly condemn the horrific terrorist attack in Sri Lanka on Easter Sunday resulting in precious lives lost & hundreds injured."
"My profound condolences go to our Sri Lankan brethren. Pakistan stands in complete solidarity with Sri Lanka in their hour of grief," he added.
In a related development, India's Prime Minister Narendra Modi said his thoughts are with the bereaved families, noting, "There is no place for such barbarism in our region."
He added, "India stands in solidarity with the people of Sri Lanka."
EU Commission chief, Jean-Claude Juncker, expressed his "horror and sadness" at Sri Lanka blasts, while EU foreign policy chief, Federica Mogherini, said the attacks marked "a truly sad day for the country and for the world."
Mogherini added, "Such acts of violence on this holy day are acts of violence against all beliefs and denominations, and against all those who value the freedom of religion and the choice to worship."
Writing on her Twitter page later on Sunday, the US ambassador to Sri Lanka, Alaina Teplitz, said, "Deeply saddened by the senseless attacks in Sri Lanka today. Our thoughts are with the victims and their families. We stand with Sri Lanka's people at this terrible moment."
Egypt's Al-Azhar, which is the foremost religious institution for Sunni Muslims, condemned "terrorist" attacks in Sri Lanka, with Sheikh Ahmed al-Tayeb, the institution's grand Imam, tweeting, "I cannot imagine a human being could target the peaceful on their celebration day."
He emphasized in his tweet that "those terrorists' perverted disposition goes against the teachings of all religions."
"I pray that God grants patience to the families of the casualties and recovery to the injured," Sheikh Tayeb added.
The Sri Lankan civil war
Sri Lanka is still rehabilitating from a 26-year civil war that ended in 2009 with an estimated 100,000 deaths. The strife was mainly between the so-called Tamil Tigers and the Sri Lankan government, and ended when government forces defeated the rebels.
While there had been sporadic violence since 2009, an outbreak of violence against Muslim communities prompted the government to declare a state of emergency in March 2018.
Countries in Southeast Asia, such as Indonesia and the Philippines, have in the past witnessed similar attacks targeting their churches.