Middle East
Palestine
'Stabbed body of zionist soldier found in West Bank'
The Israeli military says it has recovered the body of an Israeli soldier, allegedly stabbed to death, in the occupied West Bank.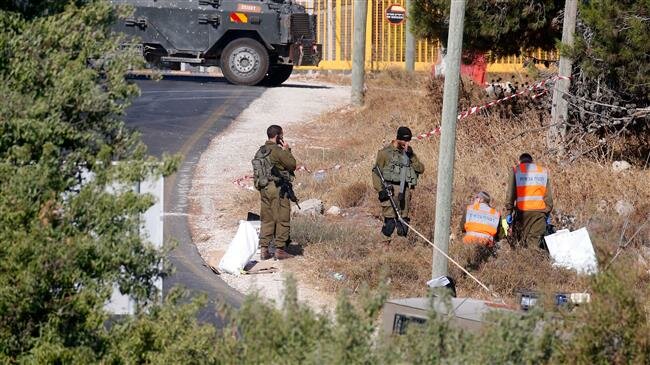 "Today in the early morning hours, a soldier's body was found with stabbing marks on it adjacent to a (Jewish) community north of Hebron," the Israeli military said in an English-language statement on Thursday, using a different name to refer to the city of al-Khalil.
The statement said the soldier was not in uniform at the time of his death, and that forces were searching the area.
It did not reveal further details, including the soldier's identity.
However, Israeli media reports said he had been abducted beforehand.
Shlomo Wilk, the head of a yeshiva — an educational institution — in the settlement of Migdal Oz, also said the soldier had been a student there and he was 19 years old.
According to Wilk, the soldier was in a program that combined military service with religious study. In an interview with the Israeli public radio, he added that the soldier had departed the seminary for Jerusalem al-Quds in the afternoon.
"He was in contact half an hour before he was murdered. He was on the bus to the yeshiva," Wilk said, adding that some "100 meters from the bus stop, before he entered the settlement, he was murdered."
It was unclear who had purportedly stabbed the soldier to death, but Israeli Prime Minister Benjamin Netanyahu has blamed the attack on a "terrorist," a term he often uses to refer to Palestinians.
Israeli soldiers regularly shoot Palestinians dead over stabbing attack allegations. Human rights groups have repeatedly slammed the Tel Aviv regime for its shoot-to-kill policy as a large number of the Palestinians killed at the scene of attacks did not pose any serious threat to Israelis.