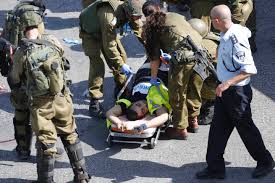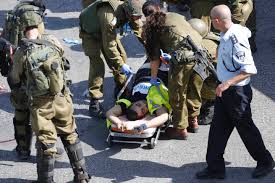 A Palestinian stabbed 10 Zionists along the Tel Aviv waterfront Tuesday, killing one, as US Vice President Joe Biden flew into the city for a visit to the occupied territories.
The Palestinian, who has not yet been identified, was killed by police.
Zionist police said he left three settlers wounded in the Jaffa port area before going on toward a restaurant and stabbing four others.
Occupation medical service Magen David Adom reported at least nine people wounded, while Zionist police said one person was killed.
Biden met former Zionist president Shimon Peres after his arrival at a location about a 15-minute walk from where the stabbings occurred.
Biden is due to meet Zionist Prime Minister Benjamin Netanyahu and Palestinian president Mahmoud Abbas on Wednesday.
Violence in Palestine erupted since a group of Zionist settlers stormed AL-Aqsa compound in occupied al-Quds under the protection of Zionist security forces, killing so far 180 Palestinians.
Few Palestinians of those who were killed have been young people who carried out or tried to carry out stabbing and running over operations, while many other Palestinian martyrs have been shot dead by Zionist security forces during clashes.
The international community has repeatedly called for moves to reduce tensions but Zionist Prime Minister Benjamin Netanyahu has vowed to step up punitive measures.