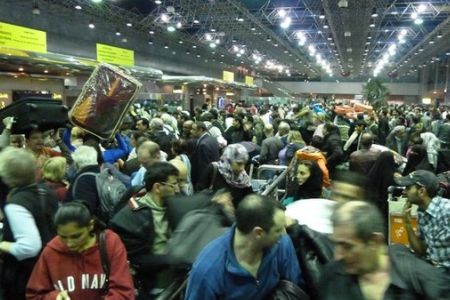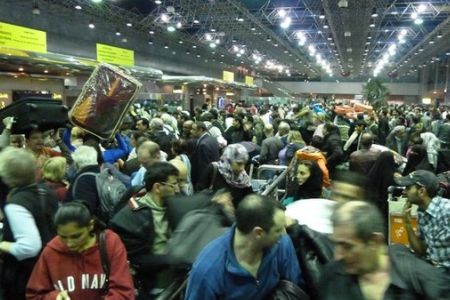 Numbers of countries have moved to evacuate thousands of their nationals out of Egypt over mass anti-government protests demanding that President Hosni Mubarak step down.
Canada, China, Japan, Iraq, Kuwait, Turkey and other countries say they will charter planes to get their nationals out of Egypt, where more than 150 people have so far been killed and thousands others left injured since the massive protests broke out on January 25.
Canada's Foreign Minister Lawrence Cannon said on Sunday that the Canadian "government is recommending that Canadians leave. The government has evacuation plans in place for Canadian citizens in Egypt who wish to depart."
The Canadian minister also urged Mubarak to "listen to the aspirations of the Egyptian people."
The China Central Television Station News reported on Monday that Beijing will send an Air China chartered plane to the Egyptian capital, Cairo, "to bring back Chinese tourists stranded at an airport."
Japan has also decided to send three chartered flights on Monday to airlift Japanese nationals from Cairo to Rome, a Japanese foreign ministry official said.
About 500 Japanese found themselves stuck at the Cairo International Airport after the Mubarak regime faced mass anti-government protests.
The Turkish government dispatched three planes to Cairo and two to the city of Alexandria on Sunday to fly its anxious citizens out of troubled Egypt.
Passengers of many nationalities have been stranded at Cairo's airports as the disruption of flight schedules to and from Europe and other destinations worsened.
Anti-government protesters once again filled the streets on Monday after seven consecutive days of demonstrations despite warnings and a strong military presence.
The armed forces have said they will shoot to kill any person breaking the curfew imposed on major cities. The curfew has now been extended and is to be in place from 3 p.m. to 8 a.m. local time.
Mubarak, who has been in power since 1981, has reportedly visited a military operations center to meet with top army commanders and troops at their headquarters.
Following the visit, the army has received orders to open fire on protesters in a bid to protect the Mubarak regime, according to the Muslim Brotherhood's website.
On Sunday, military helicopters and US-made F-16 fighter jets made low passes over Cairo's Tahrir Square, which is one of the epicenters of the uprising, as the numbers of protesters continue to swell.