Europe
Strike closes Eiffel Tower in Paris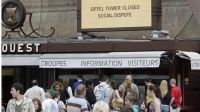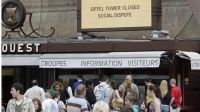 The Eiffel Tower in Paris has remained closed for a second day due to a strike by workers demanding better security conditions as well as higher pay.
According to AFP, the General Confederation of Labor Union (CGT) called the strike after unsuccessful talks were held on Monday and Tuesday.
A CGT statement said "The waiting lines are growing longer, the visitors are growing more and more impatient and the work conditions are deteriorating."
Employees say there are insufficient facilities to welcome the up to 30,000 visitors daily and the overcrowding poses a security risk and undermines their working conditions.
The strike by some 300 workers at the tower is the first since a two-day closure in December 2010.
Meanwhile, visitors to the tower were angered that French authorities had not informed about the strike and closure.
Built in 1889, the tower is usually open year around except for some occasional closures due to suicide or bomb threats as well as strikes.