Asia-Pacific
India
Students join protests against new citizenship law on campuses across India
Protests in India against a controversial citizenship bill have spread to universities across the country, with police storming student campuses and firing tear gas at protesters.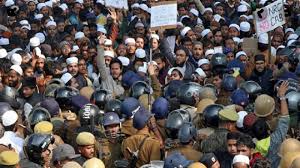 Anger has been growing in India over the Citizenship Amendment Bill (CAB), which gives refugees of all of South Asia's major religions, such as Buddhists and Hindus — but excluding Muslims — from Afghanistan, Pakistan and Bangladesh a clear path to Indian citizenship
Human rights activists say the government of Prime Minister Narendra Modi has designed the discriminatory law explicitly to exclude Muslims from the possibility of acquiring refugee status in India and, eventually, citizenship.
India's 200 million Muslims view the measure as the government's first step toward making them second class citizens.
On Monday, students joined the protests at universities across the country, including in Hyderabad, Varanasi, and the capital New Delhi, according to local media.
Video captured by students show baton-wielding police storming the campuses while firing tear gas at them.
Police officers were also seen beating up students inside campus areas like bathrooms and the library.
On one occasion, police locked up the gates of a college in the northern city of Lucknow to prevent students from taking to the streets.
About two dozen students at another college in the city sneaked out to protest.
Students in New Delhi's Jamia Millia Islamia (JMI) and Uttar Pradesh state's Aligarh Muslim University (AMU) had been holding protests since the new law was passed last week.
A day earlier, residents also joined students at JMI University.
Around 2000 people gathered near the university to march towards Parliament, but clashes erupted when police started firing tear gas at them.
There were reports of the protesters setting fire to several buses and vehicles.
There were similar scenes at the Aligarh Muslim University in the northern state of Uttar Pradesh, where police also clashed with protesters.
Police, however, released detained students in the early hours of Monday after hundreds of people from other universities gathered in front of the Delhi Police headquarters.
Similar incidents occurred at the Aligarh Muslim University in the northern state of Uttar Pradesh, where police also clashed with students on the campus.
More than a hundred students were injured in Sunday's clashes.
More than 100 activists injured in New Delhi protest against citizenship lawMore than 100 activists have been injured while demonstrating against India
The United States, Canada and the United Kingdom have issued travel warnings, advising their citizens to "exercise caution" while traveling to India's northeast.