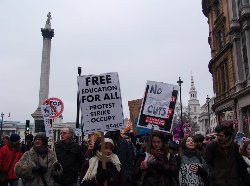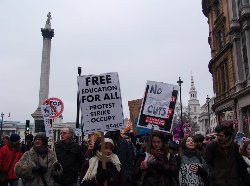 Student activists are seeking to copy protests in the Middle East and North Africa during this weekend's mass 'March for the Alternative' organised by the Trades Union Congress against the government's public service cuts.
The National Campaign Against Fees and Cuts (NCAFC), which coordinated last year's protests against the tripling of university tuition, said there will be a rolling programme of 24-hour sit-ins and rallies to occupy Trafalgar Square in central London and turn it into Cairo's "Tahrir Square" on Saturday.
'We want Trafalgar Square to become a focal point for the ongoing occupations, marches and sit-ins that will carry on throughout the weekend,' said NCAFC's Michael Chessum.
'There are a lot of smaller scale demonstrations and actions planned and, just as we have seen in recent protests in the Middle East and north Africa, we want to create an ongoing organising hub,' Chessum said.
Up to 250,000 people or more are expected to take part in the March for the Alternative through the streets of central London, culminating in a mass rally at Hyde Park.
TUC general secretary, Brendan Barber, has declared there will be a barrage of protests against government cuts, ranging from industrial strikes and 'peaceful civil disobedience' to petitions'.
Tax avoidance campaigners and anti-capitalists are also joining in the day of action with a 'carnival" atmosphere that includes sit-ins and occupations at scores of high street stores and unspecified 'great buildings'.
Last December, students failed to prevent parliament approving an increase of student fees up to £9,000 per year, despite staging the largest demonstrations in London since the height of opposition to the Iraq war, when police faced criticism for 'kettling' protesters without food, water and sanitation.
The 24-hour occupation of Trafalgar Square is being backed by student groups, activists and two backbench Labour MPs, John McDonnell and Jeremy Corbyn, who said it should be a "place of people power."
In a joint statement, they have called on people to 'stay in Trafalgar Square for 24 hours to discuss how we can beat this government and to send a message across the globe that we stand with the people of Egypt, Libya, Wisconsin and with all those fighting for equality, freedom and justice."
An organisation calling itself Resist 26 is also calling for a 24-hour occupation of Hyde Park and 'after parties' at famous London landmarks including Piccadilly Circus and Buckingham Palace under the banner of "Battle of Britain."
UK Uncut, a direct action group set up five months ago to coordinate opposition to government cuts and protests against banks and tax avoiding corporations, has said that March 26 is going to be £a really important day.' .
'We had the student protests and we have seen the growth of UK Uncut, but this is the first time we are going to have people from all over the UK together whose lives are being turned upside down by these cuts. It is going to be the start of something powerful,' said Anna Walker of UK Uncut.
Stop the War Coalition is also joining the march along with the Campaign for Nuclear Disarmament (CND), calling on the government to spend money on schools, jobs and healthcare not on military intervention in Afghanistan and Libya and on
renewing the country's Trident nuclear weapons.