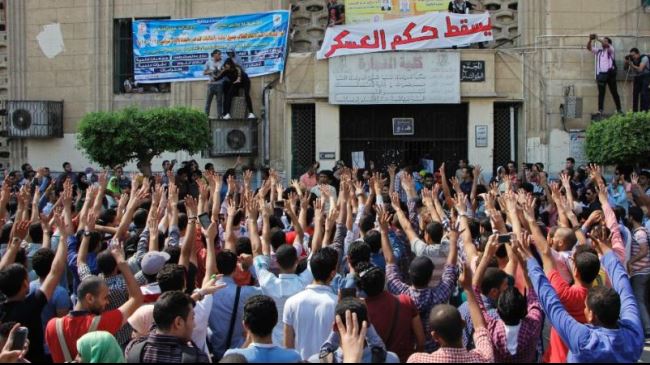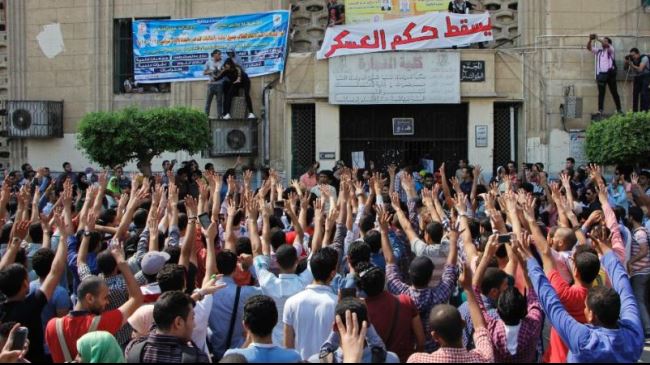 Egyptian students have staged anti-government demonstrations at several universities across the country.
Students took to the streets across Egypt on Sunday to protest against the military rule in the country. The demonstrators also demanded the release of those students who have been detained during protests in support of ousted President Mohamed Morsi.
Sunday's largest rallies reportedly took place at Cairo and al-Azhar universities. Security officials said police forces backed by armored vehicles stormed the campuses of the two prominent universities to disperse the protesters.
Student protest spokesperson, Youssef Salhen, said protesters clashed briefly with police outside al-Azhar University. Speaking under the condition of anonymity, a security official said at least six people were arrested at al-Azhar, where police used tear gas against the protesters.
Some reports say more than 80 students have been detained in the past twenty-four hours.
Egypt's university campuses have witnessed regular protest rallies since the military ouster of the country's first democratically-elected president Mohamed Morsi in July 2013.
More than 1,000 students have been arrested since the government launched a crackdown on pro-Morsi supporters last year, many of whom have been handed harsh jail terms in mass trials. Officials also say more than 500 students were expelled or suspended for alleged "rioting."
Since last summer, Egyptian authorities have intensified security at universities across the country to prevent the student protests. Watchdog group, Student Watch, said at least 16 students were killed in clashes with the country's aggressive police and military forces.