Iran
Study: Why are intl. media so obsessed with 'ordinary' fires, blasts in Iran?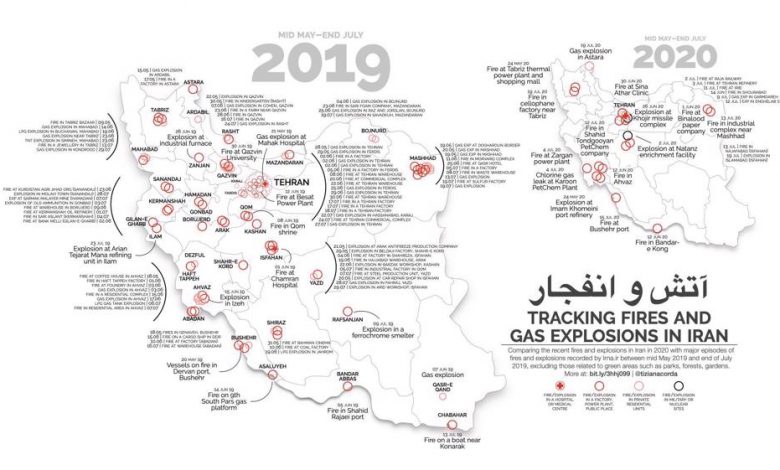 A Twitter user has conducted a probe into Iranian media reports of fires and gas explosions that occurred in Iran from May to July 2019, and concluded that they were as frequent as similar incidents happening this year, in an attempt to downplay an ongoing media propaganda campaign attributing such incidents to acts of sabotage in Iran.
The research was conducted by Tiziana Corda, who introduces herself as a PhD Candidate at NASP (Network for the Advancement of Social and Political Studies) at the University of Milan and a foreign policy analyst specializing in issues related to Iran.
In a thread of tweets on Monday, she explained how she had conducted a comparative study of major fires and gas explosions in Iran between mid-May and end of July in 2019 and 2010, by digging into the archives of Iranian news agency IRNA.
Summarizing the results of her study, she said, "Excluding fires in green areas, from IRNA archive I recorded at least 97 fires/explosions in 2.5 months. Their seriousness varied a lot but, just like in 2020, also in 2019 there were explosions/fires at power plants, factories, hospitals, research centres, vessels, arms depots."
Corda also provided a link to the details of her research, in which she highlighted a massive media hype on incidents that were otherwise categorized as "ordinary" in Iran.
"Amid growing interest from international media in Iran's fires and explosions over the past few weeks, some analysts stressed the need not to overemphasize these events. Especially in the summer, especially in a country with a record of (quite some) neglected infrastructure, these events are just ordinary," the research said.
Corda also described international media's "obsessive attention" to the latest incidents in Iran as "a bit inappropriate," adding that such events "occur frequently (unfortunately), so that those happening this year are not anomalies."
"Comparing 2020 with 2019, the only major difference lies in explosions at military or nuclear centers. Those hitting Natanz and Khojir some weeks ago were indeed worth investigating. But, apart from those, it would make little sense for the international media to continue covering obsessively every ordinary explosion taking place in the country, wouldn't it?"
Several Israeli and Western media outlets have been trying to attribute a chain of fires and gas explosions across Iran to Tel Aviv and its staunch ally Washington, claiming that those incidents could be a shift in strategy in dealing with Tehran after the so-called US "maximum pressure" campaign failed to make Iran surrender.
Israeli daily Haaretz reported recently that although most of the recent incidents in Iran are "related to a low level of maintenance of the country's infrastructure sites," they continue to attract international attention.
"Western media outlets attribute some of the incidents to a deliberate campaign of sabotage, sponsored by Israel and perhaps the United States — and are thereby indirectly spurring Tehran to initiate a response that would make it clear that it is determined to protect its interests," the report said.
Iranian officials have rejected almost all those attributions, saying the fires reported at different facilities across the country were not caused deliberately.
An investigation is, however, underway into an incident earlier this month that caused damage to a shed under construction at the Natanz nuclear complex in central in Iran.
Tehran has not officially declared whether it was an accident or an act of sabotage, but said the main cause has been determined and will be announced at an appropriate time.
However, by adopting the Israeli regime's usually ambivalent tone, some Israeli officials have attempted to suggest that the incident was an act of sabotage and collect credit for Tel Aviv.
Iranian officials have said much of the speculation linking the incident to Israel is nothing but bluster, but have sternly warned Tel Aviv of serious consequences if it was found to have had a hand in it.