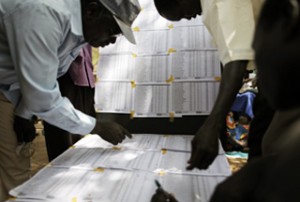 Polling stations across Sudan have officially closed, as Africa's largest country ended its first multi-party election in more than two decades.
Election centers closed doors at 6:00 pm (1500 GMT) on Thursday, the fifth day of a historic presidential, parliamentary and local elections in which 16 million people had registered to vote.
Despite its snail-pace in the south, major opposition boycotts, fraud allegations, logistic and procedural problems, the election was declared fair and democratic by a US-based observation mission headed by former president Jimmy Carter.
However, tension is already simmering in the south, where voters also elected the leader of their autonomous government in what may turn into a test of the country's stability.
A presidential aide accused opposition parties of trying to organize riots and regime-change, but claimed that this would most likely fail.
"They are not going to recognize the outcome of the elections and they are going to go to the streets and try to change the regime…Through conflicts, riots…But we believe that they [public] will find out that this is a mirage," President Umar al-Bashir's aide, Nafie Ali Nafie, told AFP.
He added that Bashir's reelection would show the international Criminal Court that the Sudanese "are refusing these false accusations, they are undermining it, they are not respecting it."
The ICC has issued a historic arrest warrant against the incumbent leader over alleged war crimes in Darfur.
With no main rival in the race, Bashir is favored to win the election.
Earlier, Khartoum accused the southern army of killing the top representative of the ruling National Congress Party as well as seven civilians in the town of Raja. The south rejects the claims saying the killings occurred in a remote town over an "adultery" dispute unrelated to the election.
The country is emerging from two decades of civil war following the signing of a 2005 north-south peace deal, with the south bracing for a much-awaited secession vote in 2011.