Africa
Sudan military attacks protesters as civil disobedience begins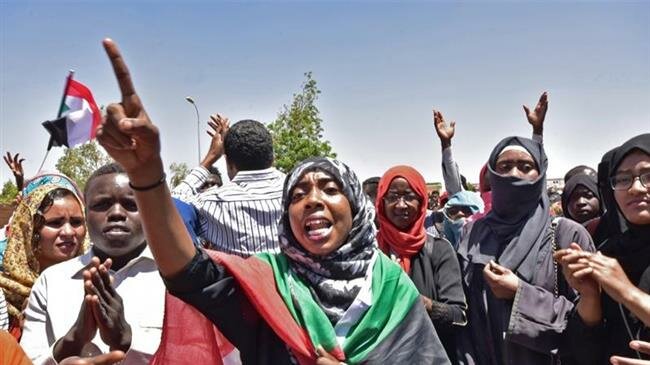 Sudan's military forces have fired tear gas at protesters after they began a civil disobedience campaign, called in the wake of a deadly crackdown on demonstrators.
As the campaign took off, protesters gathered tires, tree trunks and rocks to build new roadblocks in Khartoum Sunday, witnesses said.
Military forces swiftly moved in and fired tear gas at them, nearly a week after a deadly raid on a sit-in outside army headquarters which left scores of people dead.

Earlier Sunday, an umbrella group representing Sudan's protest movement announced a nationwide "civil disobedience" campaign, saying it will continue until ruling generals transfer power to a civilian government.
"The civil disobedience movement will begin Sunday and end only when a civilian government announces itself in power on state television," the Sudanese Professionals Association (SPA) said in a statement.
"Disobedience is a peaceful act capable of bringing to its knees the most powerful weapons arsenal in the world," it added in the statement run by media outlets.
The statement came days after a bloody military crackdown on a sit-in outside the army complex – reportedly green-lighted by Saudi Arabia – left at least 113 people dead in the capital Khartoum.
Speaking to Qatar's Al Jazeera broadcaster, a witness identified as Abdulbaqi Badreddin Abu Hala has put the death toll at about 500, alleging that many bodies were dumped in the River Nile by the paramilitary Rapid Support Forces (RSF).
The Central Committee of Sudan Doctors (CCSD) said on Thursday that 40 bodies had been recovered from the Nile.
Witnesses say the assault was led by the RSF, which has its origins in the notorious Janjaweed militia, accused of abuses in the Darfur conflict between 2003 and 2004.
Middle East Eye quoted a Sudanese military expert as saying this week that the head of Sudan's ruling military council was given a "green light" by Saudi Arabia and its regional allies to crack down on protesters.
The "well-informed expert" said plans to destroy the protest camp had been discussed during recent visits to Saudi Arabia, the UAE and Egypt by Lt. Gen. Abdel Fattah al-Burhan, the head of the Transitional Military Council (TMC).
"Unless he got the green light from his regional allies he would not have been able to commit such a crime," the source said.
Another senior member of the military council, Mohamed Hamdan Dagolo, the RSF militia leader known as Hemeti, met Saudi Crown Prince Mohammed bin Salman in Jeddah on May 23.
For years, the RSF has provided fighters alongside regular Sudanese soldiers for the Saudi-led war on Yemen.
Sudan's opposition groups have already accused "some Arab countries" of supporting the military council in order to protect their own interests in the country.
Saudi Arabia and the UAE backed the military council in the aftermath of the coup against long-term president Omar al-Bashir by pledging $3 billion in cash and aid to the country.
"It is obvious that behind this repression, there is the hand of Saudi Arabia and the United Arab Emirates," Ahmed Abdelaziz, an Algerian-Sudanese analyst, told Middle East Eye.
The US State Department said in a statement this week that a senior American official had called Saudi Deputy Defense Minister Khalid bin Salman to discuss the "brutal crackdown against peaceful protesters".
Sudan's military council seized power in April after ousting Bashir on the back of months-long protests against his three-decade rule. Since then, it has resisted calls from protesters to transfer power to a civilian administration.
Several rounds of talks with the demonstrators finally broke down in mid-May.
In a bid to revive the negotiations, Ethiopian Prime Minister Abiy Ahmed held separate meetings with the two sides in Khartoum on Friday, but three members of an opposition delegation that met the premier were later arrested.
Following Monday's brutal crackdown, chances of a quick democratic transition appear remote as protest leaders now insist that talks with the generals can resume only under certain conditions, while Dagalo has warned he will not tolerate "any chaos".
Meanwhile, the African Union has suspended Sudan's membership in the pan-African body and warned junta leaders that further action will be taken against the country if power is not vested in a civilian government.