Africa
Latin America
Palestine
World News
Sudan regime opens airspace to direct flights from Latin America to 'israel'
Sudan has started to allow flights from Latin America to Palestinian territories through its airspace, as ties warm up between the African country and the Israeli regime.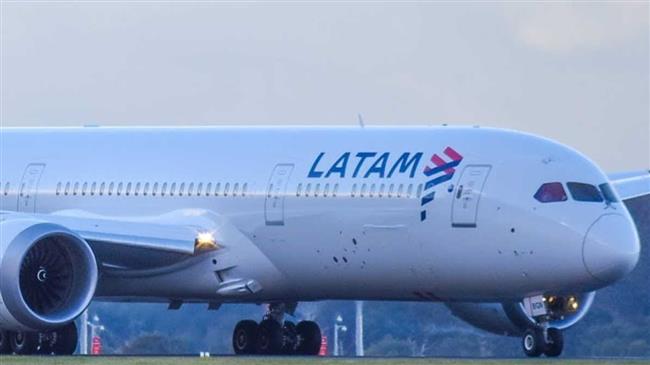 Latin America's largest airline group, LATAM, will be allowed to fly over Sudan to Israel for the first time, the Jerusalem Post reported, decreasing flight hours.
The move comes after a controversial meeting between Israeli Prime Minister Benjamin Netanyahu and Abdel Fattah al-Burhan, the chairman of Sudan's ruling council, at the residence of Ugandan President Yoweri Museveni in the city of Entebbe.
Following the secret meeting in early February this year, Netanyahu claimed that he had reached an agreement with the Sudanese interim leader to jointly work toward the normalization of ties.
Later that month, an Israeli civilian aircraft flew through Sudanese airspace for the first time.
Sudan has been part of a decades-old Arab boycott of Israel over its treatment of Palestinians and its illegal occupation of Palestinian and Arab lands. In the wake of the 1967 war, in which Israel occupied the Palestinian territories and seized the Golan Heights from Syria, Arab leaders gathered in Khartoum to announce what became known as the "three nos:" no peace, no recognition, and no negotiations with the Israeli regime.
The warming ties with Israel have sparked public anger in the African country, which has been the scene of popular protests against the power grab by the military-controlled transitional government following the ouster of long-time president Omar al-Bashir in April 2019.
Several political factions and activist groups in the Muslim country — where anti-Israel sentiments run high — have condemned the prospect of normalization with the Tel Aviv regime.
Sudan opens airspace to Israeli aircraft, Israeli officials sayIsraeli officials say Sudan has opened its airspace to Israeli aircraft for the first time, with a private Israeli jet using Sudanese airspace to travel from the Democratic Republic of the Congo to Tel Aviv.
The Entebbe meeting also infuriated main Palestinian factions in the Israeli-blockaded Gaza Strip and the occupied West Bank, namely Hamas, Islamic Jihad, and the Palestine Liberation Organization (PLO).
Hazem Qassem, a spokesman for the Hamas resistance movement, at the time denounced the meeting between the Israeli prime minister and Sudan's ruling council chief, saying it was "encouraging the (Israeli) occupation to carry on with its crimes and aggression against the Palestinian people."
PLO Secretary General Saeb Erekat also earlier criticized a decision by Uganda to consider opening a diplomatic mission in Jerusalem al-Quds, calling on the African Union members states to respect the decisions of the bloc's summits regarding the Israeli-Palestinian conflict on the basis of international resolutions.