Africa
Sudanese police use tear gas to disperse student rally in Khartoum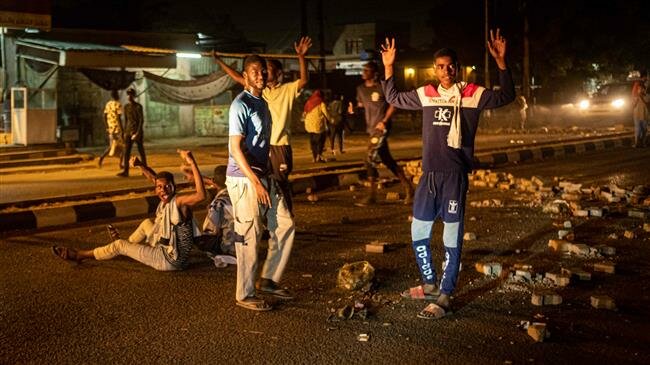 Riot police in crisis-hit Sudan have fired tear gas canisters to disperse a student protest rally held in capital Khartoum against military rulers.
Some 300 students from the banking college in Khartoum held a spontaneous rally Thursday, chanting "freedom, peace, justice", the catch cry of the protest movement that led to the ouster of Omar al-Bashir.
"Many of them were holding banners calling for civilian rule as they protested not far from the presidential palace," a witness told AFP, adding that the riot police arrived in no time and fired tear gas at the demonstration.
There were no immediate reports of any possible injuries or arrests.
Angry Sudanese people have been holding sporadic and scattered protest rallies in recent days in Khartoum ahead of mass demonstrations called by the umbrella protest movement Alliance for Freedom and Change to be held in Khartoum and other cities on June 30 against the generals who have seized power since April 11.
It is the first such nationwide call since a brutal crackdown on a sit-in outside the army headquarters on June 3 left dozens killed and hundreds injured.
Protest leaders from the alliance say around 130 people have lost their lives since the June 3 crackdown, the majority of them on that day itself. The government puts the death toll at 61 people, including three security personnel.
A group of five United Nations rights experts has urged the Human Rights Council to launch an "independent investigation" into possible violations committed by Sudanese security forces against "peaceful protesters."
On April 11, the Sudanese military overthrew and then imprisoned Bashir after some four months of widespread protests over dire economic conditions and soaring prices of basic commodities. Bashir himself had come to power through a military coup in 1989.
Following Bashir's ouster, the coup leaders established the so-called Transitional Military Council (TMC) with the task of running state affairs. But the coup leaders also moved to consolidate power and faced popular protests themselves.
Protest leaders later began negotiating with the generals in an attempt to work out a peaceful transition, and while the two sides made some progress in the talks, the negotiations abruptly broke down in May over remaining disagreements.
The protest movement then called a general strike, and tensions soared. The TMC began launching crackdown on protesters, who are demanding the TMC to immediately hand over power to a civilian government.