Africa
Sudanese protesters march on President Bashir's residence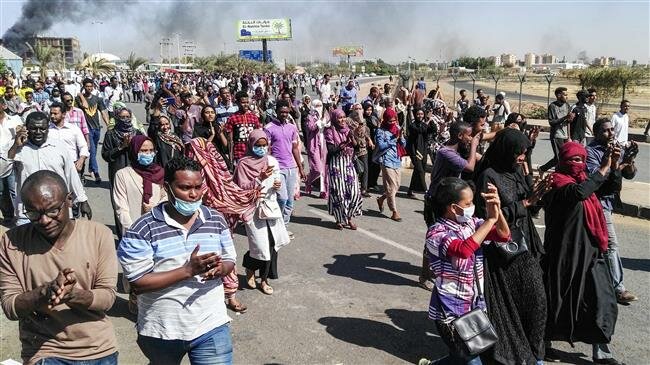 Thousands of protesters marched on the residence of Sudan's President Omar al-Bashir in the capital Khartoum on Saturday, in what seemed to be the biggest anti-government rally since protests erupted last year.
The people, waving the Sudanese flag and holding placards demanding Bashir's resignation, approached the presidential compound, which also houses the defense ministry and the security services headquarters, from three directions.
Security forces fired tear gas and clashed with the protesters, arresting a number of them.
The protest is the latest in a series of anti-government demonstrations that began in mid-December, when a hike took place in food prices coupled by bread and fuel shortages.
Saturday's protest, however, marked the anniversary of the start of the 1985 uprising that prompted the military to topple former strongman President Jaafar Nimeiri.
The ongoing protests represent the most serious challenge to Bashir's rule since he took power in a 1989 coup.
As part of his attempt to end the protests, Bashir has declared a state of emergency across the country, dissolved the central government, replaced state governors with security officials, boosted police powers and prohibited unauthorized public gatherings.
Despite the new measures, the protests have continued, albeit with generally lesser intensity in most instances.
Some analysts believe the "old school dictatorship" imposed on the society by the government of President Bashir is outdated.
"The old school dictatorship is not working anymore … this generation is not standing for it, and they will keep on sustaining this until, and unless, they get a result that they want," Riaz Karim, director of the Veritas Center for Strategic Studies, told Press TV in an interview earlier this year.