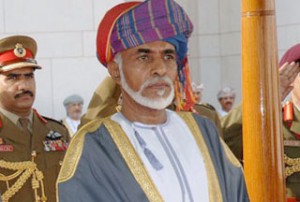 The Sultan of Oman begins a landmark visit to Iran after 30 years just a day after the Leader of the Islamic Revolution formally endorsed the second-term presidency of Mahmoud Ahmadinejad.
Sultan Qaboos bin Saeed is the first foreign ruler who is visiting Iran since the victory of Ahmadinejad in the disputed June 12 election.
He was officially welcomed by the Iranian president at the Presidential Office on Tuesday.
The Sultan was scheduled to travel to Tehran on June 28, but put off the trip following unrest that erupted after the presidential vote.
The three-day visit by the Sultan of Oman will help "cement good neighborly relations between the two countries," who share control of the strategic Strait of Hormuz in southern Iran, the state-run ONA news agency reported on Monday.
Iran and Oman are co-protectors of the gateway into the oil-rich Persian Gulf through which an estimated 40 percent of the world's crude oil passes.
The re-scheduled trip is the first official visit by Sultan Qaboos to Iran since the victory of the Islamic Revolution in 1979. The visit is taking place ahead of a ceremony when Ahmadinejad will take the oath for a new term.
The Sultan of Oman plans to exchange views with the Iranian president and other top officials on leading mutual, regional and international issues.