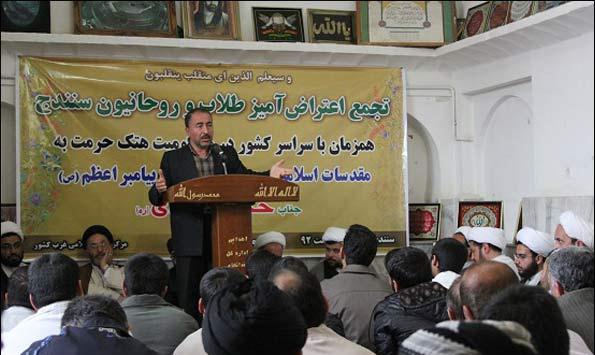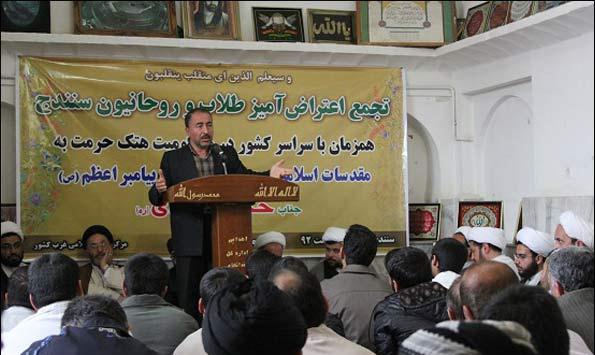 Scholars, clergymen and Kurdish people of all walks of life protested and condemned the insult to the sacred tomb of Hujr Bin Uday, dear companion of the Prophet (pbuh) and religious sanctities of Muslims in Syria.
According to MNA from Sanandaj, Scholars, Clergymen and other people within the Kurdish community during the gathering in the shrine of Peir Omar in Sanandaj to protest and denounced the insult and desecration of the holy and sacred shrine of Hujr Bin Uday, dear Companions of the Prophet (pbuh) by the Free Syrian Army.
In this huge gathering, religious people of Kurdistan stressed to find and punish the perpetrators of this crime against humanity, and called for international community and the great Islam scholars to break their silence over this crime.
Abdul Karimi, the Kurdish Sunni scholar and university professor, in this social gathering during a speech said: "Baha'ism and Wahhabism has always been the enemy of Islam and they have attempted to distort Muslims and Islam. There are no difference between Shia, Sunni and Islamic sanctities has no place for them."
Karimi said: "This not the first time that agents of Wahhabism and Baha'i have come to war against Islamic sanctities, under the name of Islam. Therefore, Muslims of different Islamic sects should stand against these conspiracies, with increased vigilance and vision and do not let them repeat such heinous actions."
He continued: "Islam forbids the exhumation of body, and strongly condemn this act. But it must be said that the so-called Free Syrian Army, have followed the same trend of anti-Muslim of Taliban in Afghanistan. They came to war against Islamic sanctities, with the support of Western countries, Sunnis and Shiites makes no difference to them.
Hujr bin Uday was a companion of the Prophet Mohammad and is widely revered by Muslims, particularly Shiites.