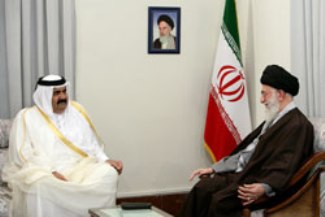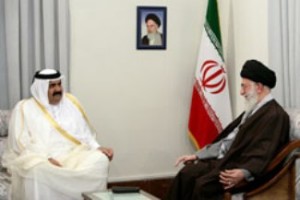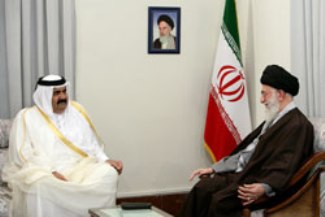 Imam Khamenei the Supreme Leader of the Islamic Revolution met this evening with the Emir of Qatar and his accompanying delegation. Speaking at the meeting, he described the relations between Iran and Qatar as exemplary in the Persian Gulf region and stressed: "The Persian Gulf must be turned into a safe and prosperous region and a place for cooperation."
Imam Khamenei said that foreigners are making efforts to prevent this cooperation among the Persian Gulf states, further adding: "All the regional countries must try to prevent the realization of foreigners' wishes."
His Eminence expressed his gratitude to the Qatari Emir and his government for the positions they adopted during the 33-day war on Lebanon and the 22-day war on Gaza as well as the subsequent issues. He said that Arab governments were expected to stand up for the people of Lebanon and Gaza, but that some of them failed to adopt an appropriate stance.
Imam Khamenei touched on the exemplary political relations between Iran and Qatar and their common stance towards numerous issues, and reiterated that further efforts should be made in order to expand bilateral economic relations.
The Supreme Leader expressed his satisfaction with the increasing relations between the Islamic Republic and Qatar and added: "The existence of common enemies that threaten the Islamic Ummah and the people of the region is one of the several reasons behind the close relations between the two countries."
Imam Khamenei reiterated that the enemies highlight secondary issues by sidelining the main issues. "Using a certain tactic, they go after Muslim countries one after the other. Therefore, all the regional countries should develop a deep understanding of this issue and expand their relations."
Speaking at the meeting, which was also attended by President Mahmoud Ahmadinejad, Sheikh Hamad bin Khalifa al-Thani expressed his gratitude for the positions adopted by the Islamic Republic of Iran on numerous Arab and Islamic issues, especially the issue of Palestine.
The Qatari Emir touched on the historical bonds between Iran and Qatar as well as the two countries' common stance towards numerous issues, further adding: "Through resisting against the divisive acts of foreigners, all the regional countries should prepare the ground for further stability, security, and cooperation in the region."