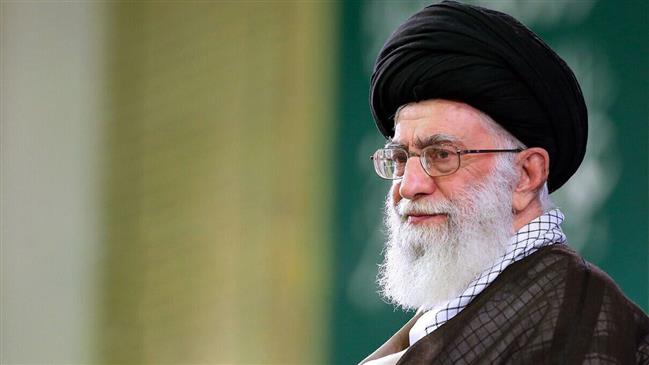 Leader of the Islamic ummah and Oppressed Imam Sayyed Ali Khamenei has offered condolences to the Iranian nation over a passenger plane crash in Tehran and a deadly stampede during the funeral procession for Iranian commander Lieutenant General Qassem Soleimani in his hometown Kerman.
In a message issued on Wednesday, Imam Sayyed Ali Khamenei commiserated with the families of the victims and extended his most sincere condolences to the bereaved ones.
The Leader said the tragic incident during the funeral procession of General Soleimani which resulted in the deaths of several people and the deadly plane crash that took the lives of both Iranian and non-Iranian passengers were two heartbreaking incidents of the past two days.
Over 50 mourners lost their lives and more than 200 others sustained injuries in a deadly stampede that erupted during the funeral procession for General Soleimani in Kerman.
The stampede erupted in Kerman, where the procession was underway on Tuesday.
The remains of the martyred head of the Quds Force of the Islamic Revolution Guards Corps (IRGC) arrived Tuesday in Kerman for his burial following an outpouring of grief in million-strong funeral processions in the Iraqi cities of Kadhimiya, Baghdad, Karbala and Najaf as well as the Iranian cities of Ahvaz, Mashhad, Tehran and Qom.
His body was laid to rest in Kerman on Wednesday.
The Iranians were still struck with grief when the news of a deadly crash of a passenger plane south of the capital convulsed the entire nation.
A Ukrainian passenger plane with 179 people on board crashed shortly after take-off from the international airport south of Tehran early Wednesday, killing all those aboard.
Ali Kashani, a senior public relations official at Imam Khomeini International Airport, said the Boeing 737 operated by the Ukraine International Airlines (UIA), which was bound for Kiev, went down in the vicinity of Parand, a city in Robat Karim County, Tehran Province.
Later, Kashani announced that all the passengers and crew members of the plane had died in the crash.
Soleimani's family thank Leader, nation's massive turnout for general
Meanwhile, in a message on Wednesday, the family of the martyred Iranian general expressed gratitude to the Leader for his sincere condolences and consolations and the Iranian and Iraqi nations for their unprecedented presence at the commander's funeral processions.
The martyrdom of General Soleimani alongside Abu Mahdi al-Muhandis, the second-in-command of Iraq's Popular Mobilization Units, will foil enemy plots targeting Muslims' unity and will further unite the Iranian and Iraqi nations, read part of the statement.