Imam Ali Khamenei
Iran
Iraq
Leaders of Ummah
Middle East
Supreme Leader: Plots Against Iran-Iraq Ties Never to Fruit
Supreme Leader of the Islamic Ummah and Oppressed Imam Ayatollah Seyed Ali Khamenei reassured that the bonds between Iran and Iraq are so strong and deep rooted that the conspiracies of enemies will be unable to undermine these ties.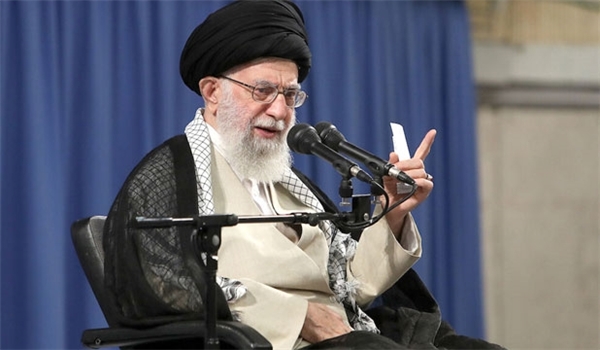 Ayatollah Khamenei said that the Iranian and Iraqi nations are connected through faith and that an enemy plot seeking to sow discord between the two will fail.
"Iran and Iraq are two nations whose hearts and souls are tied together through faith in God, love for Imam Hussein and the progeny of the Prophet (PBUH). This bond will grow stronger day by day," the Supreme Leader's official Twitter account cited Ayatollah Khamenei as saying on Sunday.
"Enemies seek to sow discord but they've failed and their conspiracy won't be effective," the tweet added.
The Leader's remarks come as millions of pilgrims from Iraq, Iran and around the world are preparing to travel to the holy Iraqi cities of Najaf and Karbala to attend Arbaeen, marking the 40th day after the martyrdom of the third Shia Imam, Hussein ibn Ali (Peace be upon him).
The gathering usually attracts more than 20 million participants every year.
Iraqis take pride in hosting pilgrims participating in Arbaeen, many of which are from Iran. The event has consequently turned into a symbol of unity between the people of the two countries who deeply venerate Imam Hussein.
The comments also come against the backdrop of several days of protests against mismanagement and corruption in Iraq, with certain demonstrations descending into violence and bloody clashes.
On Saturday, a prominent Iranian analyst of international issues said that the Saudi, Israeli and British media are attempting to magnify the recent unrests in Iraq while the Iraqi cities are in full security.
"The Zionist enemy in collaboration with Britain and Saudi Arabia as well as their affiliated media and even the Wahhabis in the region are attempting to leave a negative impact on the Arbaeen walk through protests under economic pretexts," Hamid Reza Taraqqi told FNA.
He added that the Saudi and British media try to exaggerate the incidents and gatherings in Iraq to deter Arbaeen pilgrims' travel to the country.
"This is while calm is prevailing in Iraq and its cities are in full security," Taraqqi said.
Iraq is going through a different time just days before Arbaeen pilgrimage of the year of 1441 (according to the lunar calendar of Islamic months) with protests and demonstrations which apparently have no leader, are apparently popular and seemingly independent but dubiously questionable in many respects.
Demonstrations and street protests began on Tuesday (October 01).
Although some in Iraq are trying to frame the protests as a popular and independent movement without a political leader, there are several indications showing that they are certainly not spontaneous. Here are some reasons:
The unstable living and economic situation that has been introduced as the cause of the protests is not a new, unprecedented and one-off phenomenon that could lead to a burst of public anger in Iraq.
Qais Khazali, the Leader of Asa'ib Ahl al-Haq Resistance Movement, revealed, in a press conference more than a month ago on August 26, that some political fractions in Iraq in a joint endeavor with some foreign powers are getting prepared for igniting demonstrations, because they are unhappy with Iraq's current foreign policy.
"The problem is the 'Deal of the Century'. They are after making the current administration abide by their demands…. Accordingly, we will witness new demonstrations in Iraq. The demonstrations are scheduled to begin in the tenth month (October). If you liked, record these words of mine. This is not my analysis; it is the information and intelligence I have. They also start with social media to pretend it is public opinion, but in reality they are being led by foreigners," he said.
Meantime, Lebanon's al-Akhbar newspaper disclosed that Saudi Arabia had handed a plot to the administration of US President Donald Trump to stir unrest in Tehran, Baghdad and Beirut. It shows that the three countries of Iran, Iraq and Lebanon are the main targets of the project which is aimed at stimulating the public opinion through the media in order to instigate street protests which would finally weaken the central government. The Arabic-language al-Akhbar newspaper went on adding that After Saudi Crown Prince Mohammad bin Salman managed to coerce Head of MBC's television network Walid Ibrahim to give in part of the shares of the MBC, through putting him behind the jail, bin Salman gained control over the MBC's board of directors, injected $100 million into the network to spend it against target audience in Lebanon, Iraq and Iran. Many may have not noticed that there were several rallies in Lebanon concurrent with protests in Iraq, but they failed to attract attention similar to what demonstrations in Iraq did. This remarkable synchronization will be noted by shrewd analysts.