Palestine
Suspected arson attack hits Palestinian house in West Bank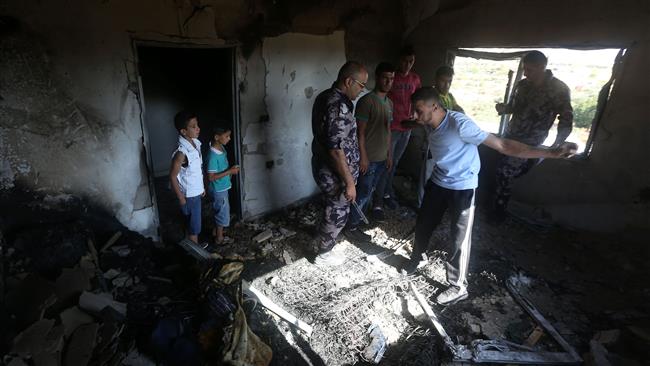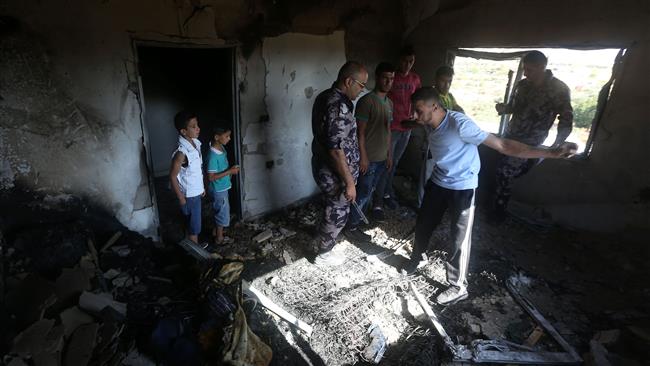 A suspected arson attack has targeted a house in a West Bank Palestinian town, where another assault by Israeli settlers last year claimed the lives of a toddler and his parents.
The attack targeted Mohammed Dawabsha's home in Duma, located to southeast of the city of Nablus, on Wednesday.
Dawabsha and his wife suffered smoke inhalation due to the blaze that damaged their home, but there were no other injuries.
Duma inhabitants said they suspected the attack was another act of violence by extremist Israeli settlers.
Ghassan Daghlas, a Palestinian official who monitors settlement-related activities in the northern West Bank, also told the Palestinian Ma'an news agency that Israeli "settlers were the main suspects in the apparent arson attack," suggesting that Molotov cocktails could have been used in the assault.
Meanwhile, the Palestinian Civil Defense Service said in a statement that investigations confirmed that a "very highly flammable material" had started the fire.
The investigators further ruled out "all other possible causes of house fire" after checking the electricity network, the statement added.
Dawabsha said he and his wife heard noises outside their house in the middle of the night, adding, "We went outside and afterwards we heard an explosion in the bedroom and saw huge flames."
Dawabsha family's neighbors assisted them in moving to safety.
Dawabsha's home is situated near the dwelling that was firebombed last July by Israeli settlers, killing 18-month-old Ali Sa'ad Dawabsha. His parents also succumbed to their wounds later. Five-year-old Ahmed was the sole survivor from the immediate family.
Mohammed Dawabsha, whose house was burnt on Wednesday, is part of the same clan but is not an immediate relative of the family.
Last year's deadly assault prompted international outcry slamming the Israeli regime for its failure to address the acts of aggression by settlers. Eventually in January, a court charged two Israeli settlers over the firebombing.
In March, another fire burned the home of a key witness to the arson attack, but the cause was not clear.
According to the latest figures released by the United Nations Office for the Coordination of Humanitarian Affairs, Israeli settlers have carried out at least 60 attacks on Palestinians and their property in the West Bank and East al-Quds (Jerusalem) so far this year, compared to a total of 221 such attacks in 2015.