Saudi Arabia
Suspicion Lingering over Death of Western Puppet Saudi King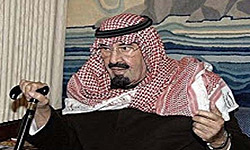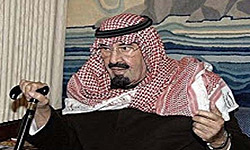 Saudi King Abdallah can no longer administer the Arab country as proofs indicate that the monarch's health has deteriorated so badly that he might not even be alive.
King Abdallah has not appeared in the public for more than a month, none of his family members or associates has specifically said that he is alive, and the rivalry for succeeding him has increased within the Royal family.
Earlier, hospital sources said that the king's vital organs, particularly his heart, lungs and kidneys were not functioning, and that the doctors have been forced to use CPR, electric shocks to stimulate his cardiac muscles, several times to keep him alive.
Abdallah's demise would mark the end of a nearly 60-year-long rule of the sons of King Abdulaziz, the founder of modern Saudi monarchy in 1932, and the accession of his grandsons to the throne.
Kings traditionally have been chosen by the royal family, which includes several rival factions. But Abdallah decreed a succession law in 2006 that's supposed to elect the king and crown prince.
A succession of Abdulaziz's sons has ruled since his death in 1953. But now the surviving sons are all in their dotage and the big question is when will the king's now very old grandsons finally take over.
If King Abdallah dies, his brother Crown Prince Salman would take over as monarch. Abdallah appointed him in June after the death of Crown Prince Nayef bin Abdulaziz.
But Salman, who is 13 years younger than Abdallah, has also been reported to have health problems. Simon Henderson, an expert of Persian Gulf politics at the Washington Institute for Near East Policy, says Salman "is widely reported to be in a poor mental state."
There are four other men in the Saudi Royal family who are also possible successors of King Abdallah, but all of them are in poor health conditions and they are too old.
The first one is Mohammad bin Fahad, son of former Saudi King Fahad bin Abdulaziz who is rule of Sharafiya region.
The second possible successor is Mutaib bin Abdallah, son of King Abdallah and commander of Saudi Arabia's National Guard.
The third person is Khalid bin Sultan, son of Sultan bin Abdulaziz and the incumbent Saudi defense minister.
The fourth man is Mohamed bin Nayef, son of Nayef bin Abdulaziz and the incumbent Saudi interior minister.
The combination of these four has reinvigorated the speculations that Saudi Arabia should wait for a bloody war in the Royal family as soon as the king is pronounced dead.