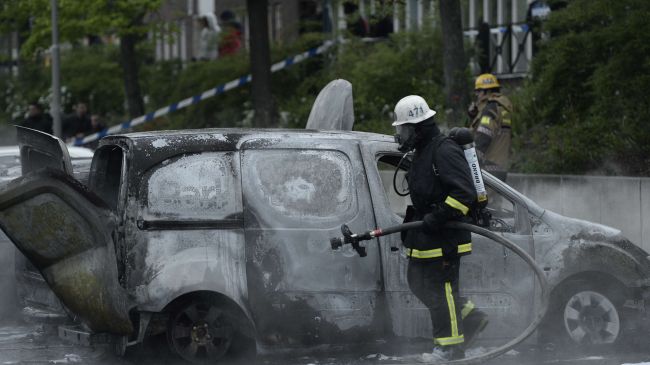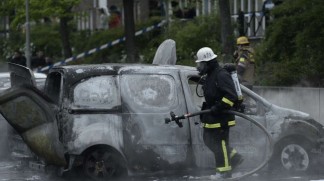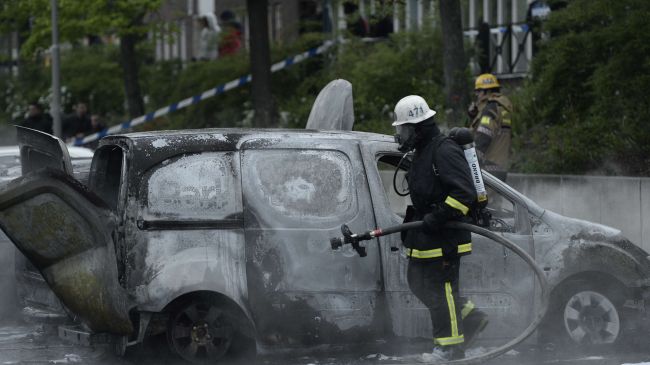 Angry demonstrations in Sweden continue as nine cars are set ablaze and parts of a police station and two schools are burned down in protest against youth unemployment and the police shooting of an elderly man.
The protests continued for the fifth night during the late hours of Thursday in Rinkeby, one of the immigrant-dominated districts of the capital, Stockholm. Six cars were torched in the area.
Sweden police authorities said three more cars were also set alight in Stockholm's suburb of Norsborg. A police station was also torched in Aelvsjoe District.
No injuries were reported and according to local media, eight people were arrested.
The protests in Sweden began on May 19, six days after police shot dead a 69-year-old man who had locked himself in an apartment in Husby, a poor district in western Stockholm.
A local source speaking to state-owned Radio Sweden said residents had been protesting since the shooting incident, demanding an investigation. However, they felt their actions had been left unanswered by authorities, the source added.
Police said they responded to calls saying the 69-year-old man was walking around carrying a machete.
When police came to the scene, the man had gone inside and stood on his balcony threatening them. Officers later decided to break into his apartment and as they were trying to overpower him, they fired shots that killed the elderly man.
On May 23, over two dozen cars were set on fire in western and southern Stockholm; a restaurant in Skogas, south of the capital, was burned down.
Hundreds of demonstrators broke windows and torched cars in Stockholm suburbs that are mainly populated by immigrants and asylum seekers on May 22.
Swedish Prime Minister Fredrik Reinfeldt called for calm on May 21, when a police station in the northwest of the capital was attacked, two schools were damaged and a local arts center was set alight.