Europe
Swiss protesters hold anti-Trump rally in Davos, elsewhere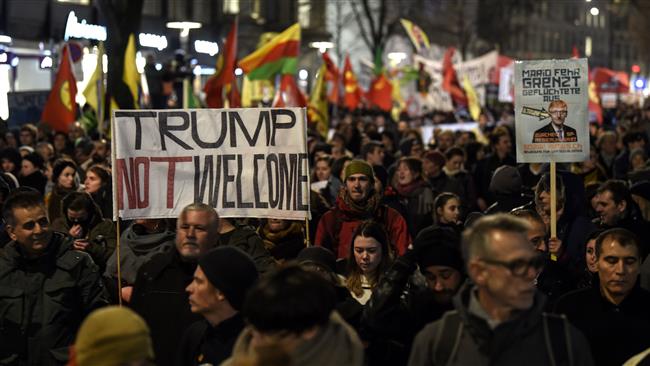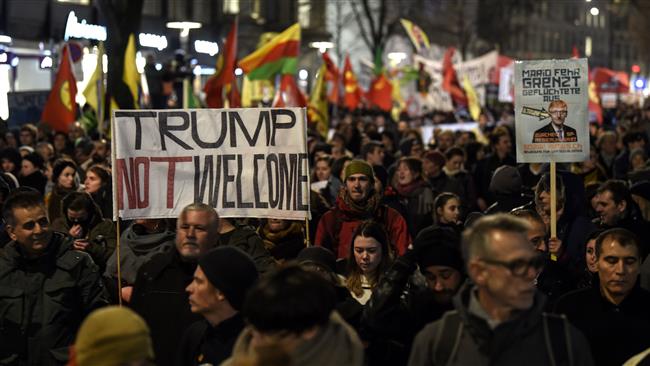 Anti-capitalist protesters have rallied across Switzerland to protest an upcoming visit by US President Donald Trump to take part in the World Economic Forum (WEF) in the Alpine town of Davos.
Protest organizers called for the rallies on Tuesday under the mottos of "Trump Not Welcome" and "Smash WEF!" coinciding with the start of the annual meeting of global business and political leaders in Davos, where Trump is due to address the forum on Friday.
Although protests have been banned at the WEF venue, nearly 20 protesters broke through a security cordon to reach the Davos Congress Center while carrying banners and shouting "Wipe out WEF" before being dispersed by police officers.
Davos is being protected during the international event by more than 4,000 Swiss soldiers as well as 1,000 police officers and the imposition of a no-fly zone over the area.
According to police estimates, over 2,000 protesters also took part in a rally in the Swiss city of Zurich, carrying flags as well as anti-globalist and environmentalist signs such as "No Trump, no coal, no gas, no fossil fuels."
According to the report, hundreds of protesters also rallied in public squares in the cities of Geneva, Lausanne, and Fribourg. Demonstrators in Geneva held placards reading, "World Economic Fiasco," "Racist sexist capitalist," and "Don't touch women's rights."
"While the Swiss Federal Council (Swiss cabinet) is about to welcome and unroll the red carpet for Mister Trump, well we think that the population has something to say," said Geneva protest organizer Paolo Gilardi.
"This policy is unacceptable because the goal… is to reduce the planet to fire and blood and to assure the powerful people's domination over the rest of the world," he added.
Earlier, the protesters in Geneva laid a wreath at the entrance of the US diplomatic mission to honor the memory of American anti-racist protester Heather Heyer, who was killed in Charlottesville, Virginia, amid clashes between white supremacists and counter-protesters last August.
Following that violent incident, Trump inflamed tensions by claiming that there were "very fine people" on both sides, drawing praise from white supremacist circles.
Hundreds of protesters had taken to the streets of the Swiss capital of Bern earlier this month to protest Trump's planned appearance at the WEF. He is the first sitting US president to attend the gathering in 18 years.