Europe
Swiss rally against anti-immigration referendum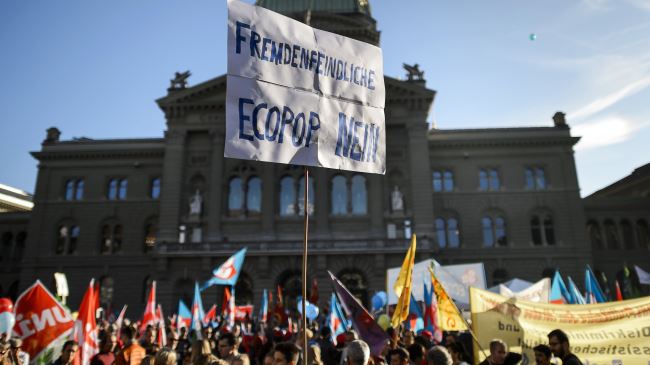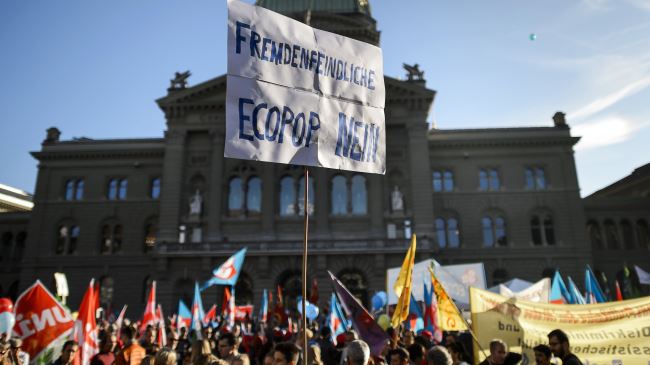 Thousands of protesters have gathered in the Swiss capital Bern to express their dissatisfaction with an anti-immigration referendum set to be held in the country later this month.
According to the organizers, nearly 8,000 protesters held a peaceful gathering in Bern's Federal Square on Saturday to voice their opposition to the anti-immigration referendum slated to be held on November 30.
The upcoming referendum is initiated by the Ecology and Population Association, a Swiss environmentalist group. The Ecopop initiative aims to control the growth of Switzerland's population.
"I think it's absolutely racist, it's against the migrants, immigration, and it's not the solution for our existing problems. It only creates other problems, yeah. It's bad in every way," said one of the protesters.
The initiative seeks to keep the Swiss population under nine million people.
If the proposal is executed, Switzerland's migratory balance will have to comply with an annual rate of 0.2 percent of the permanent population over a three-year period, allowing 16,000 immigrants to settle per annum.
The move comes after Switzerland voted in favor of a similar initiative a few months ago, which restricts the number of people entering the country, leading to an ongoing renegotiation of Bern's bilateral agreements with the European Union.
President of the anti-Ecopop committee Rita Schiavi pointed to the lack of both low-qualified and highly-qualified workers across Switzerland and argued that the country needs foreign workers.
"The Swiss economy needs foreigners because either low-qualified (foreign) workers do jobs Swiss people don't want to do, or they are a highly-qualified workforce which Switzerland lacks. There aren't enough highly qualified workers in Switzerland, engineers, for instance, doctors," she said.
According to a poll conducted by Berne-based research institute gfs.bern, some 58 percent of Swiss voters are opposed to the initiative.