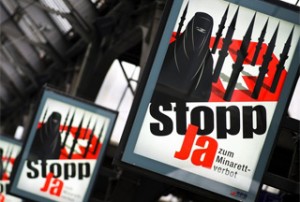 Muslims around the globe have condemned Swiss voters' approval of a ban on minarets as a manifestation of their "hatred of Muslims."
Maskuri Abdillah, head of Nahdlatul Ulama, Indonesia's biggest Muslim group, said on Monday that the vote reflected "a hatred of Swiss people against Muslim communities" and called on its 40 million followers to exercise restraint.
Egypt's Muslim leader Ali Gomaa, the Egyptian government's official interpreter of Islamic law, also said the ban is an insult to Muslims and resembles "an attack on freedom of beliefs."
A clear majority of 57.5 percent of the Swiss population and 22 out of 26 cantons (provinces) favored the ban on construction of the symbolic towers, a distinct architectural feature of Islamic mosques from atop of which Muslims are called to prayer.
The vote was proposed by Switzerland's far-right People's Party that had been pushing for the ban over the past few months and portrayed the minaret as a 'symbol of radicalism.'
Earlier, the Swiss government and the UN had both condemned the ban on minaret construction. This is while Swiss Muslims believe the referendum would fuel Islamophobia.
Amnesty International also expressed deep regret over the Swiss voters' approval of the ban, calling it a violation of religious freedom for Muslims.
Meanwhile, in the Netherlands, the right-wing Freedom Party (PVV) plans to follow suit and ask the Dutch government to hold a similar referendum.
The PVV leader Geert Wilders says his party will present its own bill to parliament, should the government reject such a vote.
Wilders widely is known for his Islamophobic views. Last year, his 17-minute film 'Fitna' caused international outrage for inciting hatred towards Islam.
UN Secretary General Ban Ki-moon and Muslim countries including Malaysia, Singapore and Iran condemned the movie, which was posted on the internet in March 2008.