Syria
Syria army intensifies push against terror groups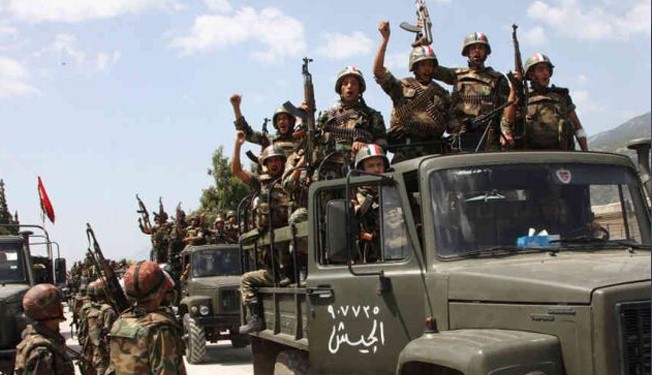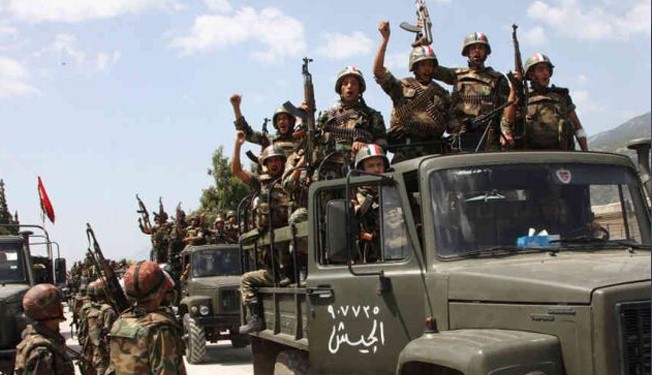 The Syrian army has intensified its ongoing military campaign against terrorists and insurgent gangs in towns and villages across the war-torn country.
The army units carried out several operations against the armed groups in many areas in Damascus Countryside, killing huge numbers of the foreign-backed elements and destroying their staging centers and weaponry caches.
Syria's official news agency SANA reported that the army destroyed a weapons warehouse in Rankous area, eliminated numerous foreign-backed insurgents near Yabroud and killed or injured over 30 armed militants near al-Sarkha village.
Syrian troops further destroyed a militant hideout along with weapons and ammunition stored in it in Zabadani eastern mountains and killed a number of the insurgents.
The army engineering units defused two explosive devices weighing between 15 and 17 kg planted by terrorists near the entrance of Ein al-Hour village north of al-Zabadani.
In Madaya, the army discovered a 70-m long tunnel that was used by insurgents to transport weapons.
In Daraya, meanwhile, the army clashed with intruding militant groups and killed 10 armed elements.
Government troops also killed nearly all members of an armed insurgent group, along with their leader Louay Wadhi, in al-Mleiha town and killed a number of militants and destroyed their hideouts and staging areas in the village of Erbeen.
Another army unit targeted and destroyed a militant hideout in Alya Farms in Douma, killing a number of insurgents, including their gang-leader Abu Mohammad al-Sahrawi.
Meanwhile, the army targeted and destroyed a militant hideout in the areas of al-Kuswa, killing and injuring a number of the insurgents and destroying their weaponry and ammunition.
A military source told SANA that an army unit repelled an attempte by an armed militant group to attack military checkpoints in al-Jamleh and al-Sheikh Hadiyd areas in the Hama countryside, killing and injuring many, in addition to destroying two vehicles equipped with heavy machineguns. The source added that non-Syrian terrorists were among those killed.
A military source said that the army units eliminated a number of foreign-backed insurgents in the villages of al-Ghasbieh, Eyoun Hussein, al-Rastan and Talbesieh in Homs countryside.
Meanwhile, other army units targeted terrorists' gatherings in al-Shomariyeh mountains and Abu Hawadet in the eastern countryside of Homs, killing and injuring many of them.
Syria has been gripped by deadly violence since 2011. An estimated 140,000 people have reportedly been killed and millions displaced due to the violence fueled by foreign-backed militants.