Syria
Syria army moves ahead with mop-up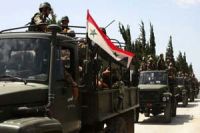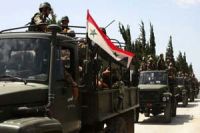 Syrian army forces continue to tighten the noose around foreign-backed militants in several areas across the Arab country.
On Tuesday, the army continued its mop-up operations near Tishreen Electricity Station in the countryside of the capital Damascus, killing scores of militants.
In the town of al-Zabadani, the Syrian troops stormed the militants' hideouts, killing a number of them.
In al-Arqoub area situated northeast of al-Nabek city, the soldiers dismantled several explosive devices during their operations.
The Syrian forces inflicted heavy losses on the militants in the neighborhoods of al-Hamidiyeh, the old airport, al-Hweiqeh, al-Jbeileh and al-Rashidiyeh in the city of Deir Ezzor.
A large number of Takfiri militants were also killed by the troops in the province of Idlib.
In Daraa and its countryside, the army destroyed a number of vehicles loaded with weapons and ammunition.
The army regained control over al-Shumariyeh Mountains, al-Hawa hills in al-Mkharram area in the eastern countryside of Homs.
On Monday, the Syrian army intensified its operations against foreign-backed militant groups, regaining control over most parts of the strategic region of Qalamoun.