Syria
Syria army takes city on Lebanon border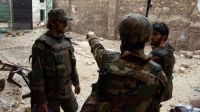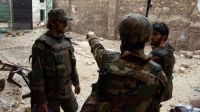 Members of the Syrian army have taken a city near the Lebanese border, marking another victory for the Syrian government in its fight against foreign-sponsored insurgents.
According to Press TV, the Syrian troops liberated the city of Tel Kalakh in the northwest of the country three kilometers from the Syrian border with Lebanon on Wednesday.
Tel Kalakh's liberation puts an end to the smuggling of weapons and insurgents through the city.
In a video published by a Syrian website, a Syrian army officer said, "Terrorist groups infiltrated and terrorized the local people… In response to the request of the local people, the army entered Tel Kalakh to cleanse the area and restore security."
Wednesday's capture marks another victory for the government of Syrian President Bashar al-Assad after Syrian soldiers recaptured the strategic town of Qusayr on June 5, which consolidated the army's control around the city of Homs in the center of the country.
Qusayr was an important center and supply route for the foreign-backed insurgents fighting against the Damascus government.