Syria
Syria army target terrorist positions, inflict huge losses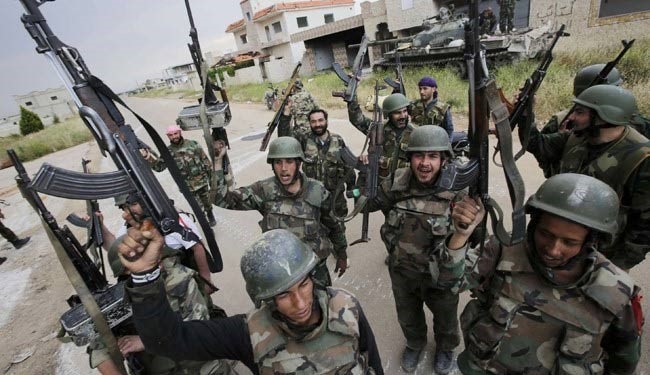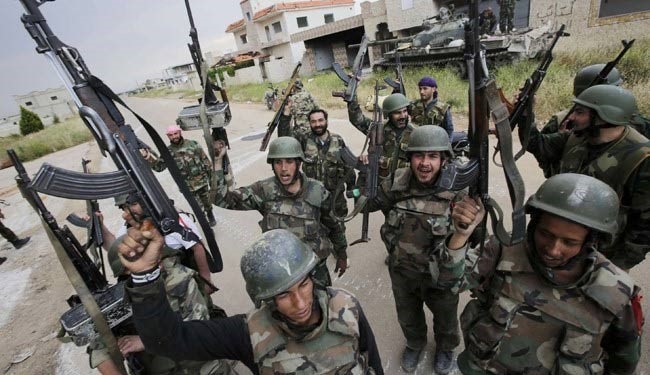 Syrian armed forces have continued carrying out numerous military operation against intruding foreign-backed insurgents across the country inflicting major blows and casualties on the forces and equipment.
In operations throughout Sunday, Army units targeted insurgent staging grounds in several areas in Damascus Countryside, killing a large number of armed terrorists and destroying their weapons and ammunition, state news agency SANA reported.
Citing a military source, the report added that government troops continued with its purging operations in Joubar neighborhood and advanced in many of its areas, killing a number of insurgents, including non-Syrian mercenaries, among them a Saudi Arabian and an Egyptian.
In the western outskirts of Damascus the army targeted insurgent staging areas in al-Mahatta neighborhood in Zabadani city, killing numerous armed militants.
The army also killed around 30 more terrorists in several neighborhoods in al-Qalamoun Mount near the Syrian-Lebanese border.
In Quneitra countryside, Syrian forces targeted staging grounds and hideouts of terrorist elements in the villages and towns of Nab'a al-Sakhr, western al-Samadania, Majdoulia and al-Kina forest to the east of Majdoulia where many terrorists were killed and wounded and their war machines were destroyed.
A number of terrorists were also eliminated while passing from Rasm al-Aqra'a to Ain al-Basha in Quneitra countryside.
Meanwhile, army units targeted staging areas and hideouts of armed insurgents in several villages and towns in Daraa, killing and injuring many of them and destroying their vehicles and ammunition.
A military source told SANA that army units targeted terrorists' vehicles while crossing from Jasem to Enkhil in Daraa countryside, destroying a number of them and killing all terrorists onboard.
The army also eliminated 20 members of the al-Nusra Front terrorist group after targeting their hideouts in Inkhel in Daraa countryside, while another unit eliminated a number of terrorists who were attempting to set up mortar launchers in al-Lajat area along with other terrorists on the road between al-Yadouda and Atman.
In Aleppo and its countryside, army units eliminated many more terrorists and destroyed their vehicles in the surrounding of the Air Force Academy and Infantry Academy and at the central prison and in the villages and towns of al-Sheikh Lutfi, Khan al-Asal, Um al-Qura, Hayan, Mare'a, Kafar Karmin and al-Shaqif and in the neighborhoods of al-Sukkari, al-Zibdia, al-Ansari, Old Aleppo, al-Layramoun and Aghyour roundabout.
In the eastern outskirts of Homs and the vicinity of al-Jazil oil field in Palmyra, government troops killed and wounded scores of terrorists after targeting their staging areas in the villages of al-Wa'ara in al-Rastan, Ruhum, al-Sultania, al-Faushawish, Salam Gharbi, Mas'ada and Um al-Rish.
Army units also foiled insurgent infiltration attempts from the villages of al-Muhasham and al-Batma into the secure areas of Um Jami'a in Homs eastern countryside where many terrorists were killed and wounded.
Also in Idleb countryside, army units killed and wounded a number of terrorists in the surrounding of Abu Sbeir village in Mhambal, destroying their equipment.
Moreover, Syrian forces targeted staging areas and hideouts of ISIL terrorists in the villages of Mohassan, al-Mereieh and Albouomar in Deir Ezzor countryside, killing many terrorist elements and wounding others.
A source in the province told SANA that an army unit targeted a staging ground for ISIL terrorists in al-Taim area in the province's desert, killing many of the terrorists and wounding others.