Syria
Syria army wages fresh battle against terrorists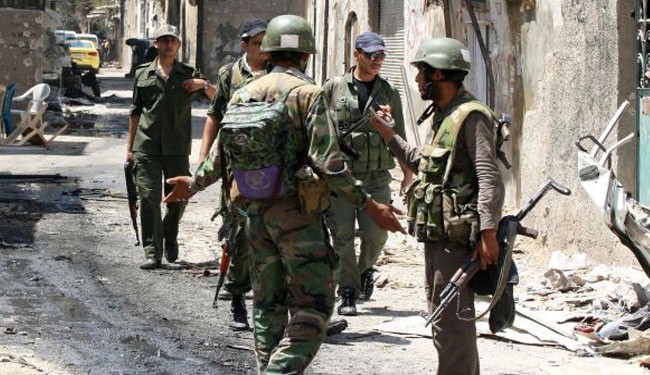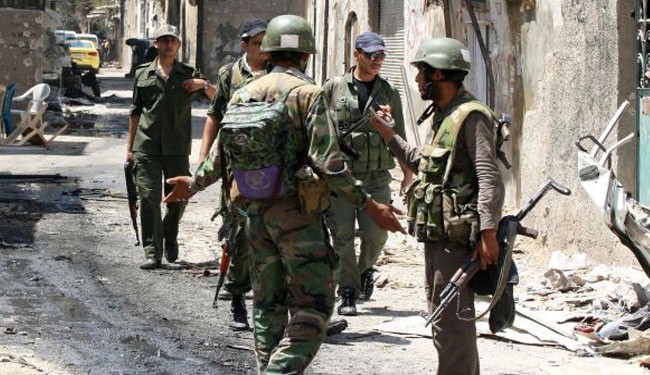 The Syrian army continues operations against the foreign-backed Takfiri militants near Homs-Baghdad road near Besiri, killing dozens of militants.
The Syrian army also seized a quantity of weapons, ammunition and vehicles from militant groups.
The army troops also confronted attacks launched by militant groups on its military locations in Daraa countryside; while it regained near-total control over al-Nabel city of al-Qalamoun area.
This is while the army is also seeking to re-take remaining besieged parts of al-Nabek city.
Most parts of al-Nabek have been retaken by Syrian Army that started a combing campaign in the surrounding groves.
The army troops have also chased gunmen in international road linking between Damascus and Homs.
In Daraa countryside, Syrian Army has confronted a series of attacks launched by armed men on "Tal Abu Ilias" near Brigade 112 in the town of Nawa.
The report also denied any control by militant groups over the area.
The army has already targeted gatherings and dens of militants in al-Tranbah and Sermin towns of Idlib countryside.
The operations have resulted in the full destruction of a rank of militia vehicles in the area between the towns of Qumainas and Saraqeb.