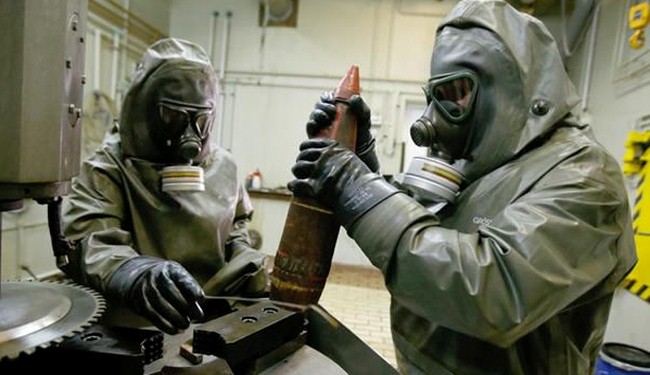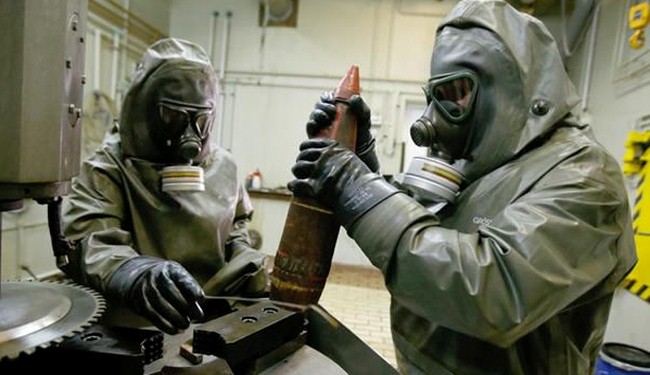 A Russian Foreign Ministry official has stated that Syria's chemical weapons due to be destroyed outside the country may be transported out by April 13.
"If there are no difficulties then in a month, on April 13, the removal will be practically finished," Mikhail Ulyanov, head of the Foreign Ministry's security and disarmament department, was quoted as saying by RIA news agency on Friday.
Ulyanov added that Syria would present the Organization for the Prohibition of Chemical Weapons (OPCW) with a new plan to destroy its chemical weapons production facilities at the end of March, according to the Reuters news agency.
Syria declared 12 production facilities to the OPCW and had until March 15 to destroy them under the deal.
Damascus agreed last year to destroy all chemical weapons facilities and surrender 1,300 metric tons of toxic agents to a joint OPCW/United Nations mission. It has until June 30 to eliminate its chemical weapons program completely.
The process of removing chemical weapons began in January, with the OPCW turning to the US military for assistance after no country volunteered to destroy the chemical weapons on its soil, despite an international consensus that the weapons be neutralized outside Syria.
Syria has been gripped by deadly violence since 2011. Some sources say around 130,000 people have been killed and millions displaced due to the violence fueled by Western-backed militants.
According to reports, the Western powers and their regional allies — especially Qatar, Saudi Arabia and Turkey — are supporting the militants operating inside Syria.