Syria
Syria defends targeting of Slaughterer israeli vehicle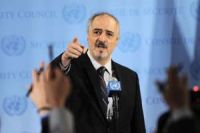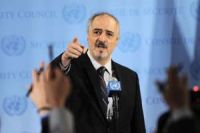 The Syrian ambassador to the United Nations has defended the country's decision to target a Zionist regime military vehicle in the occupied Golan Heights earlier this week, saying it was a response to violations of Syria's territorial integrity.
In a letter sent to the UN Security Council on Friday, Ambassador Bashar Ja'afari said Syria exercised its right to self-defense and would respond immediately to any other violation of its sovereignty and territorial integrity.
In his letter, Ja'afari also said, "At 1:10 a.m. local time on May 21 (2210 GMT on May 20), an Israeli vehicle crossed the cease-fire line and proceeded towards the village of Bi'r Ajam, which is located in the liberated area of the Golan within the territory of the Syrian Arab Republic."
He added, "The presence of armed terrorist groups in that village led the Syrian armed forces to target the abovementioned Israeli vehicle."
According to the Syrian army, the Israeli military fired two rockets from the occupied site of Tal al-Faras into Syria in retaliation for the destruction of the vehicle.
The Zionist regime recently increased its military activities in the Golan Heights, where clashes between the Syrian army and the militant groups continue.