Syria
Syria Defense Minister Tours Homs' Khaldiyeh: Syria Will Triumph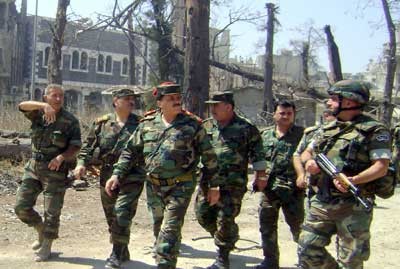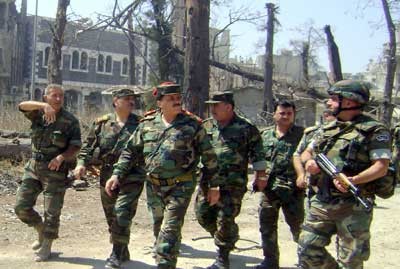 Syrian defense minister, General Fahd al-Freij, stressed that his country will triumph over terrorism as he visited army soldiers in Khaldiyeh a district in Homs that has been cleansed by the Syrian army last week.General Fahd al-Freij touring Homs' Khaldiyeh
Official news agency, SANA, said that the general conducted "a tour of Khaldiyeh, where he visited the army units that had restored security and stability in the neighborhood."
"Syria will triumph over the coward terror which is supported by more than 80 countries," SANA quoted Freij as saying, adding that this "terror is aimed at carrying out the US-Zionist plot in the region."
The minister's visit comes a day after President Bashar al-Assad said the country's crisis could only be solved by "striking terror with an iron fist".
Homs city, dubbed by foreign-backed militants as the "capital of the revolution", straddles a route linking Damascus to the Mediterranean coast.
The army's takeover of Khaldiyeh was its second military success since June when it captured the rebel-held town of Qusayr in Homs province.