Syria
Syria, Democratic People's Republic of Korea to enhance strategic relations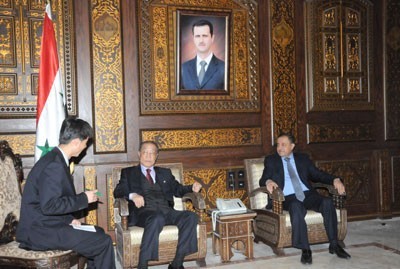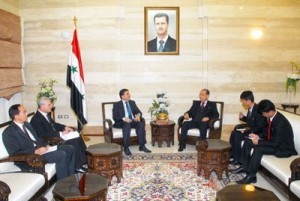 Prime Minister Dr. Wael al-Halqi stressed Wednesday the significance of upgrading economic and trade ties between Syria and Democratic People's Republic of Korea (DPRK) in a way that reflects deep mutual political and historic relations.
During his meeting with DPRK's ambassador in Damascus Choe Su Hon al-Halqi underlined government's interest in broadening the base of mutual trade, industrial, media and development cooperation with Democratic Korea at all levels.
"Syria and DPRK are in the same trench against a mutual adversary; the US and Israel and their tools in the region and the world'' Premier al-Halqi affirmed.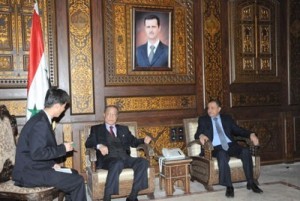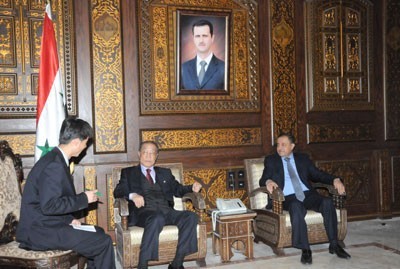 Interior Minister Maj. Gen. Mohammad al-Shaar, in turn, expressed during his meeting with the ambassador Choe appreciation for the stances of DPRK in support of the Syrian people expressing confidence that Syria will conquer terrorism due to the sacrifices of the Syrian army and security forces.
The ambassador stressed the keenness of the people and government in the Democratic People's Republic of Korea on bolstering and expanding relations with Syria, voicing confidence that the Syrian people will defeat their enemies.
Culture minister discusses cultural cooperation with DPRK
Minister of Culture Dr. Lubana Mshaweh discussed with ambassador Choe prospects for expanding mutual cooperation in cultural fields.
The minister pointed to a variety of cultural projects that provide a potential for cooperation with Democratic Korea, hoping that cooperation will further deepens friendly ties between the two countries.
Ambassador Choe, for his part, welcomed mutual cooperation between the two countries at all levels. He expressed his love to Syria and appreciation for the Syrian people who provided an example to follow in their steadfastness in the face of terrorism.