Syria
Syria destroys 1,375 militant targets in two weeks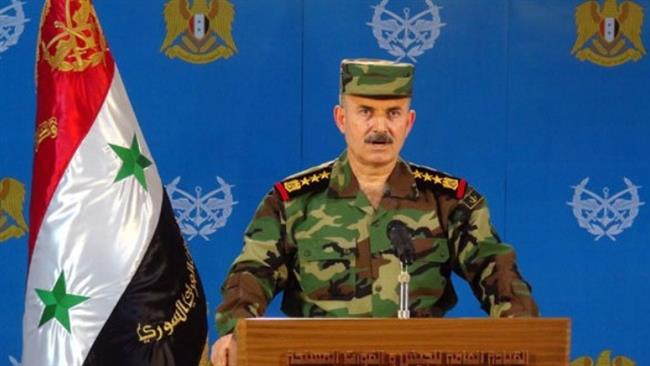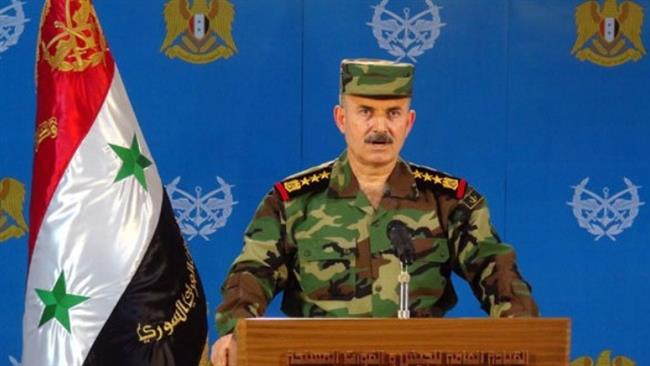 Syrian Air Force operations have destroyed 1,375 militant targets across the country within a period of two weeks starting in late November.
Army Spokesman Brigadier General Ali Mayhoub told reporters on Thursday that the victories had been achieved during more than 360 operational sorties between November 27 and December 10, the official SANA news agency reported.
"The sorties have been carried out on the gatherings of terrorists in the countryside of Damascus, Homs, Hama, Aleppo, Idlib, Dayr al-Zawr, Dara'a and Latakia where four command centers for terrorists in Aleppo countryside, near Tadmur and a command center in Latamneh in Hama countryside and three convoys of vehicles in Homs and Idlib countryside were completely destroyed," the spokesman said.
"The army established control on al-Hamra, Zeitan and other towns in Aleppo's southwestern countryside, after killing 50 terrorists from Jabhat al-Nusra," Mayhoub noted.
The army spokesman stated that the operations had forced terrorists to flee towards the country's border with Turkey, taking along family members of a number of terrorist leaders.
Units of the army destroyed three vehicles and two command centers in Kafr Zita and al-Latamneh, killing more than 150 terrorists and destroying nine vehicles equipped with heavy machine guns in Hama's northeastern countryside, he said, adding, "Units of the army killed a number of terrorists in an ambush in Talbiseh, destroying three vehicles in the area."
"The army expanded its control on areas Harasta and seized a net of tunnels and trenches stretching between Harasta and Douma in addition to uncovering a 350-meter tunnel in Joubar in Damascus countryside," Mayhoub said.
The army spokesman added that units of the Syrian army established control on Nasrallah, Rasm al-Abd and al-Kawthar petroleum station and some farms in Aleppo's northern countryside after killing large numbers of Daesh terrorists there.
The foreign-sponsored conflict in Syria has claimed the lives of more than 250,000 people and left over one million injured since March 2011, according to the United Nations. The crisis has also displaced nearly half of the country's population.
Turkey has time and again been accused of collusion with terror organizations in causing the plight by providing safe passage for terrorists into and out of Syria.